Leave Campaign Life Coalition in your Will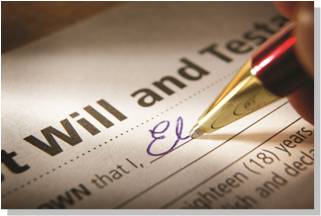 As a steward in God's vineyard, we must plan for the distribution of our assets upon our deaths. The easiest way to do so is through a WILL, prepared with the aid of a lawyer. A WILL guarantees that the resources we leave behind are distributed according to our wishes, enabling us to continue our support for the charities or organizations closest to our hearts.
A "Legacy Gift" is when you make a gift through your will. The most common option is to give cash. It is also the easiest option. You simply write down the amount of the Legacy Gift in your will. There are many options as described below, for giving a legacy gift. PLEASE DISCUSS THIS MATTER WITH MEMBERS OF YOUR FAMILY.
Option A – Legacy Gift of a specific cash amount
Here is a sample of typical wording if you wanted to leave a specific gift amount:
"I give $_____ to Campaign Life Coalition".
Option B – Non-cash Legacy Gifts
You can give gifts of stocks, real estate or other assets. We suggest you consult your lawyer if you prefer non-cash legacy gifts.
Option C – Part or all of an estate
You can make a legacy gift of part or all of the estate by writing it in your will.
Option D – A residue of your estate
Here is typical wording when you wish to leave a "residue" i.e. the remains after taxes, administrative and legal expenses:
"I bequest ____% of the residue of my estate to Campaign Life Coalition".
Option E – Alternative beneficiary
You can also elect Campaign Life Coalition as the alternative beneficiary of your estate. Here is sample wording that could be used in a will:
"If none of the individuals I intend to benefit from this will are alive or otherwise capable of benefiting, I live the residue of my estate to Campaign Life Coalition".
Campaign Life Coalition will provide you with access to pro-life lawyers who will help you determine and organize your Planned Giving arrangement. Please contact us at 800-730-5358 or 416-204-9749.