Empty Schools Campaign: We are Thorncliffe!
October 1, 2015
Where: All across Ontario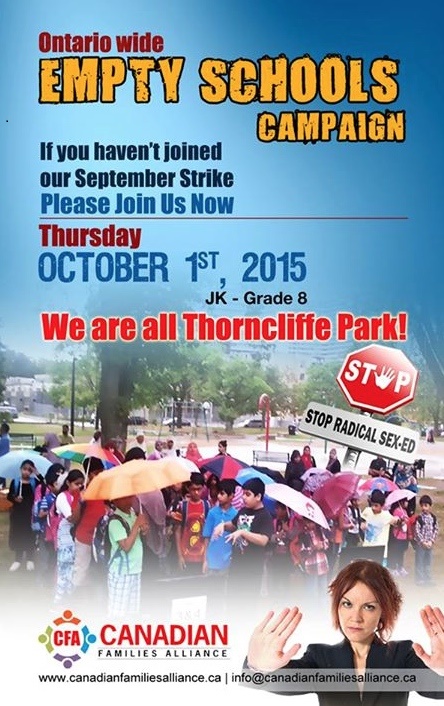 The Canadian Families Alliance (CFA), a network of more than 25 cultural, ethnic, religious and parental rights groups, is requesting that all Ontario parents and grandparents participate in this massive, one-day, elementary school student strike.
If you have children or grandchildren in a Catholic or secular elementary school, please arrange to have them withdrawn from school on Thursday October 1st in protest of the Liberal government's radical sex-ed curriculum.
At a minimum, we recommend you notify your teacher and school principal, using the sample lettter below:
LETTER TO PRINCIPAL (Public secular version): download
LETTER TO PRINCIPAL (Catholic version): download
If you want to make an even stronger statement, take the extra time to send a carbon copy to your local school trustees, your local MPP and Patrick Brown, the Leader of the Official Opposition at Queen's Park. Make them aware of the fact that you and your children will be striking in order to protest the age-inappropriate, overly explicit curriculum.
If you have children in the Catholic system, you might also make the extra effort to notify the Bishop of your diocese, as well as the local parish priest. CFA wants to raise awareness amongst all influence-holders, of the fact that parents do not want their children sexualized.
The October 1st Empty Schools campaign was inspired by the powerful, 30-day student strike held by dedicated families in Toronto's Thorncliffe Park community, which had hundreds of students skipping school and instead, homeschooled outside in the park next to the schools.
Make it go viral!
Help the CFA make this a huge success by distributing the official poster as widely as possible through your place of worship or other social circles.
It can be downloaded to print in 2 different sizes:
A) Full 8.5x11 poster: [download]
B) Half-size, two up on a letter sized sheet: [download]
Tell us where you'll be striking
It would be of great help to CFA organizers if we could keep track of how many children are being withdrawn from class on October 1st, the name of the school board, and what town/city you live in. This won't be shared publicly in any way. It's just to help the CFA guage how well the strike is going.
Please give us those details by clicking here.