Sudbury protests against Trudeau at Catholic school
December 18, 2012

We at Campaign Life Catholics were very disturbed to learn that the rabidly pro-abortion, Liberal leadership candidate, Justin Trudeau, would be given a platform to speak to catholic children at St. Charles College School in Sudbury this Friday December 21st.

If you happen to be Catholic, or a Catholic ratepayer, we ask you to please join scheduled protests at the Catholic School Board office and at St. Charles College this Wednesday and Thursday, to demand that Trudeau's talk be cancelled. Protests have been organized by local Catholics from 7:15am to 9:30am and from 2:45pm to 4:30pm at the school board office, located at Catholic Education Centre, 165A D'Youville St, Sudbury, ON, P3C 5E7. If the event is not cancelled, faithful Catholics will protest at St. Charles College School Friday December 21. Trudeau's speech is expected to begin at 8:30am.

Large banners designed by CLC will be provided as well as a few signs. If you make your own signs, please keep the message to "CANCEL JUSTIN" or "STOP TRUDEAU ABORTION SCANDAL".

Due to his outspoken public opposition to Catholic moral teachings on abortion and homosexual "marriage", the Sudbury Catholic School Board risks the sin of scandal to the faith of its students. The Board may be inviting spiritual harm to children who, seeing Justin's anti-Christian witness, may also come to believe that it is acceptable for a Catholic to support the grave sin of abortion and homosexual "marriage".

To leave no room for doubt about Justin's opposition to Catholic teaching, we've provided three quotes made very publicly in media interviews.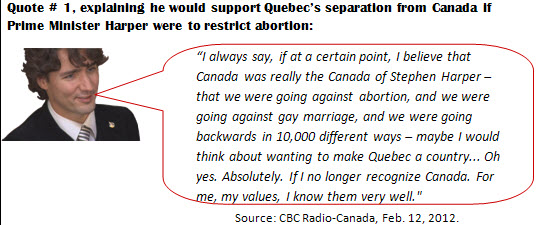 | | | |
| --- | --- | --- |
| | | You may listen to the interview in french here. |





This risk of scandal is not eliminated by the fact that Trudeau will not speak on abortion or homosexuality. His anti-Catholic views in these areas are public knowledge, therefore the risk of students being lead to trivialize or accept these sins, remains just the same.

Besides attending the protests, we encourage you to also express your concerns to the following Catholic education stakeholders:

1. PRINCIPAL AT ST. CHARLES COLLEGE
Patti Mardero
Phone: (705)566-9605
Email: [email protected]

2. BOARD OF TRUSTEES
Barry MacDonald (Chair) Phone: (705)858-2031
[email protected]

Jody Cameron (Vice-chair) Phone: (705)690-1696
[email protected]

Michael Bellmore Phone: (705) 669-0166
[email protected]

Ray Desjardins Phone: (705)855-3282
[email protected]

Estelle Scappatura Phone: (705)670-1858
[email protected]


3.DIRECTOR OF EDUCATION, Sudbury Catholic School Board
Catherine McCullough, (705) 673-5620 ext. 238
[email protected]

4. DIOCESE OF SAULT STE. MARIE
Bishop Jean-Louis Plouffe, Tel: (705) 674-2727
[email protected]
In Christ,

Suresh Dominic
Campaign Life Catholics
(A Division of Campaign Life Coalition)