Hundreds of parents protest Liberal sex-ed
February 25, 2015
Despite frigid temperatures, hundreds of parents and concerned citizens gathered at Queen's Park on Tuesday February 24 to protest Premier Kathleen Wynne's explicit sex education plans for elementary grades. The event began at 11:00am with about 100 protesters, but grew rapidly as people arrived individually and in bus loads. One estimate of peak attendance put the crowd at 1,000 although media reports ranged from 200 to 500, coming not only from Toronto but also Hamilton, Kitchener, Mississauga, Brampton and other communities.
The event was very grassroots, organized by a lady named Sandra who had never before done anything like this. She simply felt called to do something about a curriculum that she felt would sexualize children. It was an incredibly diverse mix of cultural and ethnic backgrounds including eastern European, Chinese, Indian, Middle Eastern and others, plus a broad array of religious backgrounds including Christians, Muslims, and Sikhs.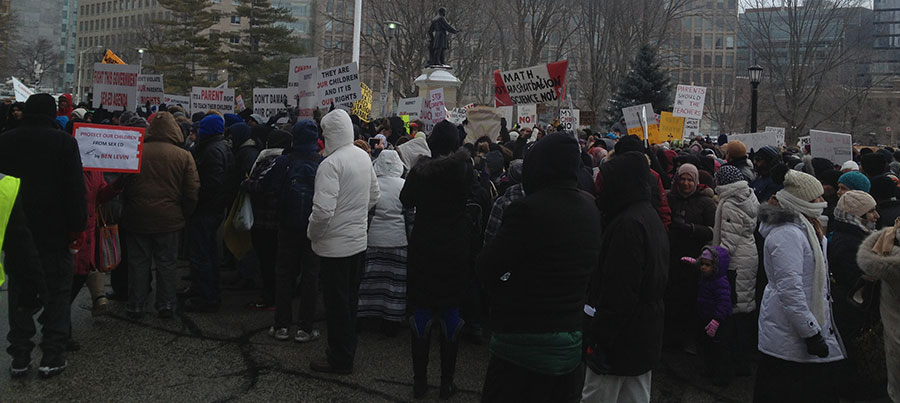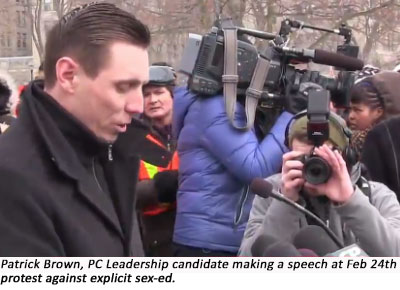 The first person to speak was Ontario PC Party Leadership hopeful, MP Patrick Brown who told the crowd that Kathleen Wynne is going beyond the mere teaching of facts on sexuality, and abrogating to the government a responsibility that legitimately belongs to parents:
"Teachers should teach facts about sex education, not values," Brown said. "Parents teach values."
Brown also addressed the lack of consultation with parents:
"As parents you must be consulted on fundamental changes to a curriculum that directly affects your children. Kathleen Wynne's approach to the issue of sex education has shown little attempt to consult parents and families. She seems to think that she knows what's best for your kids. Better than you do."
A second PC Leadership hopeful who spoke at the protest was MPP Monte McNaughton. He has lead the charge against the lack of parental consultation by the Wynne government in developing this controversial curriculum.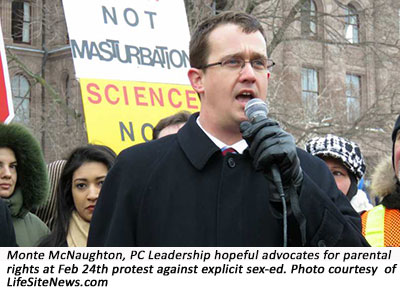 McNaughton re-iterated that he is standing "shoulder-to-shoulder" with parents. Chastising the Premier for breaking her promise to consult parents on the development of the curriculum, McNaughton said to loud applause: "I've got a message for Kathleen Wynne: 'the real consultation begins today.' She's got no choice but to listen to parents."
Monte reiterated his reasons for taking the fight to Kathleen Wynne's sex-ed plans since she first announced it in November:
"I come to this issue first and foremost as a father. Second, with a belief that parents should be first educators on serious issues like sex education, and the government should respect parents in this process...the government and Kathleen Wynne should be respecting parents."
Several individual parents were also invited to speak from the microphone. Claudia Rulli, a mother, said that the government does not have her consent to teach her children about masturbation, oral sex and gender identity theory. Other common themes included a rejection of the government as "a co-parent who presumes to know my children better than I do". Parents pointed out that each child is unique and not all children will be developmentally and emotionally ready for the sensitive lesson content, at the grades that government bureaucrats have decided it must be presented to all kids. Some parents also expressed concern that some elements of the curriculum would undermine the moral and religious beliefs about human sexuality that they try to instill in their kids at home.
The former Toronto District School Board trustee, Sam Sotiropolous, emceed the protest and was highly motivational himself in urging parents to continue fighting on. Jack Fonseca from Campaign Life Coalition also addressed the crowd. He pointed out that the new 2015 curriculum was now even more age-inappropriate than the original 2010 version which had outraged parents to such a point that Dalton McGuinty had to retract it for fear of loosing a looming election.
"Now that Kathleen Wynne has posted the Sex-Ed curriculum online, many of you are aware that it is word-for-word the same controversial curriculum presented in 2010, at the same inappropriate age levels", said Fonseca. "The only difference is that Kathleen Wynne has added some new goodies to make it even more sexually explicit, more age-inappropriate and to even more aggressively target the parent's moral beliefs for eradication. But basically, it's the 2010 curriculum, warmed over".
The Campaign Life Coalition representative also pointed out that the possible influence of former Deputy Education Minister Benjamin Levin in the writing of the program casts a dark shadow over the curriculum. Fonseca said it adds one more point of concern for parents who already feel the curriculum is age-inappropriate and overly explicit. Levin, the man who oversaw the writing of the Liberal sex-ed program was charged with 7 counts of child exploitation including one count each of making and distributing child pornography.
A letter from Levin to his work colleagues asking for positive character references in regards to his sentencing, was recently leaked to the Toronto Sun and in it, stated that he will plead guilty to counseling someone to commit a sexual assault on a child. The sex-ed architect's letter admitted that he had asked an undercover police officer posing as a mother, to sexually assault her child for him. After his arrest, a past essay by Levin came to light in which the top education bureaucrat had publicly criticized criminal background checks for people working with children. Fonseca echoed a worry that was on the mind of many in the crowd: "Parents, moms and dads out there -- do you feel more comfortable knowing that the Liberal government enlisted the help of a child pornographer to develop this new Sex-Ed curriculum for your children?"
The protest generated a storm of media coverage including dozens of television, radio and newspaper reports.It took four CLC staff members scrambling to field all the media interview requests. The rally organizers and other participating groups said they will continue putting pressure on the Liberal government to scrap or revise the controversial curriculum.
Take action to fight the curriculum
Join the PC Party before February 28th at midnight so you are eligible to vote for either Monte McNaughton and/or Patrick Brown as the next Opposition Leader and hopefully, the future Premier of the province. By electing either one of these pro-family politicians as opposition leader, parents will have someone who will actually respect their views and consult with parents so they can lend shape to an age-appropriate curriculum with which they are more comfortable. The deadline to join the party so you can be eligible to vote for the Leader is February 28th. Join the PC Party here

.



Sign CLC's petition against the sex-ed curriculum here.

Email your MPP using our automated tool here.

Submit a traditional values, parent communication form to your child's teacher/principal to notify you in advance of any sex-ed lessons so that you can decide whether or not to opt-out your child from that lesson. Our friends at P.E.A.C.E. (Public Equity Advocates for Christian Equity) have created an excellent set of Parent Communication Forms that make it easy for you to opt-out your child from controversial lesson plans. Here are links to the different options:
i) Catholic parent form here
ii) Protestant parent form here
iii) Muslim parent form here
iv) Non-religious parent form here

Note: If thousands of parents, and especially many parents in each school, start submitting this traditional values form and also withdrawing their children from class, it would cause such disruption in the schools, that teachers and administrators would begin pushing back against Kathleen Wynne, asking her to give the Sex-Ed program "a rethink".

Educate your pastor and/or religious leader about the controversial elements of the sex-ed curriculum and respectfully urge them to help us grow and mobilize resistance.
a. Sample bulletin and pulpit announcement for churches
b. Download and share this printable handout which summarizes the controversial elements of the curriculum, showing excerpts from the actual curriculum. Download here.
c. If you feel competent doing so, ask your pastor if he/she would allow you to make a presentation on the topic. CLC can provide you a canned Powerpoint slideshows presentation. Ask us about this.
Meet with your local school trustee, educate them and ask them to speak out against the curriculum.