Analysis of Canada's 2015 Federal Election
October 21, 2015
A red tide washed over Canada on election night, as Justin Trudeau's Liberals won a huge majority. The Liberals captured 184 out of 338 seats according to the most current data available, leaving the Conservatives at 99 seats, and the NDP at 44.
The landslide Liberal victory was the result of an intense dislike for Prime Minister Stephen Harper, the man. As many pundits acknowledge, the Mike Duffy Senate scandal which dominated media coverage over the past year, appears to have created a broad anti-Harper sentiment across the country.
Canadians no longer trusted Harper, and simply wanted him gone.
Hostility expected on life & family issues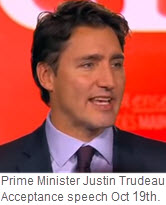 Given Trudeau's extremist position in favour of unrestricted abortion-on-demand, we anticipate he will push for greater "access to abortion" across Canada. Of course, that means more dead babies.
During the campaign, he also promised that a Liberal government would send Canadian taxpayer dollars overseas to fund abortion in poor countries, making abortion part of Canada's Maternal Health Initiative.
Since Liberal Party policy favours legalizing the forms of homicide known as euthanasia and assisted suicide, we expect to have an opponent in Prime Minister Trudeau.
Other moral and societal degradation may also follow in the area of legalizing drugs, prostitution and reviving the transsexual "bathroom bill".
Losing old friends, making some new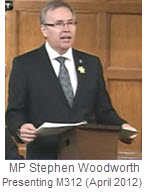 Due to the retirement of many pro-lifers before the writ was dropped, we headed into the election with 58 incumbent pro-life MPs. After votes were tallied, twenty-three had lost their seats, which was offset slightly by a gain of 6 new pro-life candidates.
No doubt, the loss of these men and women is a setback for the pro-life and pro-family movement.
Several strong MPs will be sorely missed including the outspoken sponsor of Motion 312, Stephen Woodworth. He was swept away indiscriminately by the anti-Harper tide, along with two other Conservatives in the Waterloo region who were not pro-life.
Woodworth's motion to study what modern medical science teaches us about when human life begins created a national debate on abortion which helped many Canadians to think about human rights for preborn children for the first time.
Here is a list of the 23 pro-life, Conservative incumbents who lost. We thank them for their service in Parliament.
| | | |
| --- | --- | --- |
| Costas Menegakis (Aurora - Oak Ridges - Richmond Hill, ON) | | Paul Calandra (Markham – Stouffville, ON) |
| Kyle Seeback (Brampton South, ON) | | Tilly O'Neill-Gordon (Miramichi - Grand Lake, NB) |
| Rob Clarke (Desnethé - Missinippi - Churchill River, SK) | | Stella Ambler (Mississauga – Lakeshore, ON) |
| Gail Shea (Egmont, PE) | | Wladyslaw Lizon (Mississauga East-Cooksville, ON) |
| Lawrence Toet (Elmwood – Transcona, MB) | | John Williamson (New Brunswick Southwest) |
| Nina Grewal (Fleetwood - Port Kells, BC) | | Lois Brown (Newmarket – Aurora, ON) |
| Jeffrey Watson (Essex, ON) | | Royal Galipeau (Orléans, ON) |
| Rob Moore (Fundy Royal, NB) | | Rodney Weston (Saint John – Rothesay, NB) |
| Pierre Lemieux (Glengarry - Prescott – Russell, ON) | | Bryan Hayes (Sault Ste. Marie, ON) |
| Daryl Kramp (Hastings - Lennox and Addington, ON) | | Roxanne James (Scarborough Centre, ON) |
| Ronald Cannan (Kelowna - Lake Country, BC) | | John Weston (West Vancouver - Sunshine Coast - Sea to Sky Country, BC) |
| Stephen Woodworth (Kitchener Centre, ON) | | |
And below are the six new pro-life Conservative MPs. If you live in their riding, please congratulate them.
| | | |
| --- | --- | --- |
| Alex Nuttall (Barrie - Springwater - Oro - Medonte, ON) | | Garnett Genuis (Sherwood Park-Ft Saskatchewan, AB) |
| Len Webber (Calgary Confederation, AB) | | Michael Cooper (St. Albert - Edmonton, AB) |
| Bob Saroya (Markham - Unionville, ON) | | Cathay Wagantall (Yorkton - Melville, SK) |
How did pro-life candidates fare over all?
Trudeau's "no choice but pro-choice" policy meant that there was not a single pro-life Liberal candidate in this election. The NDP have long held a similar policy banning pro-life Canadians from running as candidates. Therefore, the only mainstream party where pro-lifers were permitted to run was the Conservative Party.
The desire for change after a nearly decade long rule by Harper, swept away many Conservative Members of Parliament, along with NDPers whose support collapsed due to strategic, anti-Harper voting.
However, pro-life Conservatives actually withstood the seemingly unstoppable Liberal wave remarkably well.
Of the 99 Conservatives elected, 41 were rated "pro-life" by CLC. That means over 41% of the Conservative Caucus will be pro-life, a marginally stronger representation than what we had in the previous Conservative caucus. In the last parliamentary session, there were 67 pro-life MPs, representing 40% of the previous Conservative caucus.
That's important ground to hold, ensuring a strong pro-life voice continues to exist in what will now be the Official Opposition. To see a listing of all the pro-life MPs click here.
When you add in the seven newly elected MPs who shared some of our values, but could not be given a full, green light rating, the representation of pro-life or pro-life leaning MPs in the Conservative caucus rises to 48%.
It's also interesting to note that pro-life Conservative candidates had a higher rate of electoral success than their pro-abortion colleagues. Only 31% of Conservative candidates who had been rated "pro-abortion" by CLC got elected. In contrast, 47% of Conservatives rated "pro-life" by CLC are heading to the House of Commons.
The Christian Heritage Party fielded 30 candidates who proudly carried the banner for preborn human rights and family values, but did not secure a seat. Special kudos to Hamilton Mountain's CHP candidate, Jim Enos, who left his Liberal opponent speechless in an abortion debate. Watch the exchange here.
Pro-life voters made a difference
CLC was able to send hundreds of volunteer supporters to the election campaigns of pro-life candidates. We also conducted get-out-the-vote campaigns for advance polls and Election Day in every riding with a pro-life candidate.
One example where this hard work by pro-lifers paid off was in a newly created riding called Barrie-Oro-Medonte. The pro-life Conservative candidate, Alex Nuttal, won by a mere 110 votes. Without the pro-life vote, this riding would surely be in the hands of a pro-abortion MP.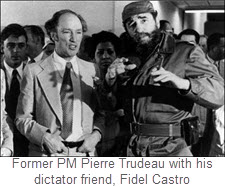 Following in his father's footsteps
Justin appears to have been cast in the same anti-life mould as his infamous father, Pierre Elliott Trudeau, who decriminalized abortion in 1969, resulting in the slaughter of 4 million Canadian babies to date.
In spite of the setback represented by the election of Justin Trudeau, who may possibly become the most anti-life Prime Minister in Canadian history, justice demands that we persist in our fight to grant legal rights to all preborn children, and to protect the sick, elderly and disabled from euthanasia.
How to move forward: Education
What are the next steps for the pro-life movement?
First of all, we should ground ourselves in prayer. If we ask for God's blessing on our work, we will predispose ourselves more effectively to doing the will of the Author of Life in restoring a culture of life.
Second, there remains a robust pro-life presence in the Official Opposition. If pro-lifers make it a priority to lobby these new Conservative MPs, to let them know they have the support of constituents, and to educate them on sanctity of life issues, many may be encouraged to take a vocal stand for preborn human rights in the House of Commons. When there is debate, our cause advances.
Third, there are a number of Conservative MPs whose stance on life issues is still unknown or have been rated "educable". Therefore, pro-life constituents have an opportunity to "adopt" these MPs. That means taking them under your wing, educate them on our issues, and bringing them around to sharing our pro-life convictions.
Finally, our education efforts must not be limited to parliamentarians. More than ever, ordinary pro-lifers need to get more engaged in educating the general public about pro-life issues.
That includes bringing it up in discussion with neighbours. It means asking your pastor if you could make a presentation on a pro-life issue, or bring in a guest speaker to do so. It means taking the time to write letters to the editor of your newspaper, or calling into talk radio to inject our topics into the discussion.
When one door closes….
… another opens. So goes the saying, and that may be true in the context of this federal election. As a result of the Conservative defeat, the party has announced that Stephen Harper is stepping down as Leader. A leadership convention will be held at some point in the future.
Prime Minister Harper famously declared that his government would not re-open the abortion debate. He even personally voted against MP Woodworth's Motion 312, and put pressure on his MPs to do so.
The Leadership convention may offer the opportunity to elect a pro-life leader for the Conservative Party. Stay tuned to hear more about this in the future.