Toronto Pro-life Forum - June 24 to 25, 2011
June 6, 2011
We are pleased to bring you the 2011 Toronto Pro-life Forum from June 24 -25.
This informative, inspiring event, dealing with timely issues, will be held at the Hotel Novotel Toronto Centre, 45 The esplanade.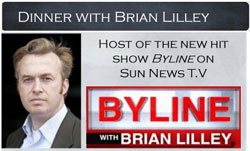 Friday Dinner event: June 24
Starting at 6 p.m. Friday, the conference kicks-off with a dinner and talk by a celebrity keynote speaker, Bryan Lilley, who is a veteran jounalist from the upstart Canadian news network, Sun News TV.
As host of BYLINE, the network's 9 pm 'straight talk' formatted show, Lilley has tackled the issue of abortion with a refreshing honesty that has not been seen on any other 'mainstream' network.
Come hear what Lilley has to say on the state of Canadian media, and issues that pro-life Canadians care about. Click the image to the right to view a flyer with more details. Tickets for just the dinner with Brian Lilley cost $75.
Saturday event: All-day conference June 25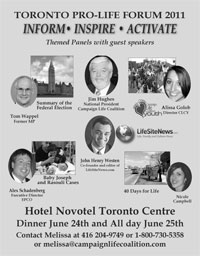 On Saturday, the all-day conference features themed panels with guest speakers, discussing current life and family issues. Attend and learn how you can get involved and so you have the ability to educate others.
A partial list of guest speakers includes:

â–ºLinda Gibbons, prisoner of conscience
â–ºNicole Campbell, 40 Days For Life in Toronto, Coordinator
â–ºJohn-Henry Westen, Editor-in-Chief, LifeSiteNews.com
â–ºAlex Schadenberg, The Euthanasia Prevention Coalition
â–ºAlissa Golob, CLC Youth, Director
â–ºTom Wappel, former Member of Parliament
â–ºJim Hughes, Campaign Life Coalition, National President
Click the image to the left to view a flyer with more details. Tickets for the all-day Saturday conference cost $95.
Combo package: Keynote dinner + Conference
A value package gets you the Friday dinner and Saturday forum/conference for only $145.
Order tickets online or phone Melissa at 416-204-9749, or at 1-800-730-5358. If cost is a problem for you, let us know your situation. We do have several "sponsored" spots available to give away at our discretion. It's important for you to be present, to empower yourself with knowledge, so you can go out and influence your own community.
This event is being co-sponsored by LifeSiteNews and Niagara Region Right to Life.
To download a printable pdf poster with all the details, click here.