What to do with Patrick Brown in 2018?
August 29, 2017
Originally published on July 5, 2017
Ontario is less than one-year away from a provincial election. Many Ontarians can't wait to finally get rid of Kathleen Wynne's Liberal regime and its endless assault on parental rights and the nuclear family.

The problem however, is that the most likely alternative to replace Kathleen Wynne is her surprising doppelganger, Patrick Brown.

After using social conservatives to secure the PC Party Leadership, Brown betrayed them and embarked on a strategy of copying all of Kathleen Wynne's radical policies.
Wynne's biggest cheerleader: Patrick Brown
For example, after campaigning to repeal Wynne's pedophile-influenced sex curriculum, Brown completely reversed his position and became the most vocal defender of her radical sex program for elementary school children.

Brown also reversed his position on abortion, declaring that just like Wynne, he now supports the killing of children in-utero. The PC Leader also ordered his MPPs to vote in favour of Wynne's radical Bill 28 which erased the terms "mother" and "father" from Ontario law.

Therefore, it's legitimate to ask the question: "What good is achieved by replacing Wynne with someone who will continue all of her destructive programs and policies?"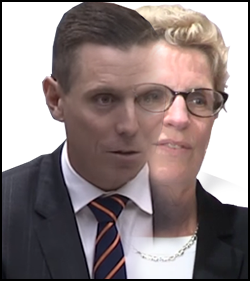 Make Brown sweat, or make him pay
We do have some democratic tools available to deal with Two-Face Brown. For one, CLC is continuing its call for Brown to resign as PC Leader, or to face a Leadership Review wherein party members can replace him with someone more friendly towards the social conservative base of the party. CLC's call for a leadership review will continue until it happens.

Secondly, we can apply pressure on Brown and the entire PC caucus, to tilt back to the right in support of family-friendly and pro-life policies, or otherwise, to punish him for refusing to do so. This is the point we wish to explain… and need your help to implement. We'll explain how in the next section.

We need to make Brown – and the PC establishment - sweat for votes. We can do this by encouraging competition in the next election which serves to threaten the PC Party's path to victory, or even to put its chances of winning a majority, at risk.

We must teach the PC establishment this lesson: the pro-life/pro-family movement will support those who represent our values, but withhold support from those who do not.

Brian Lilley from The Rebel Media recently did a news report in which he described how two new, "small-c" conservative parties could potentially "peel away" enough votes from disillusioned PC voters to give Brown cause for concern in 2018.

One of those new parties is the Trillium Party which has been campaigning against the Wynne/Levin sex curriculum.

The other upstart party is the even newer Alliance Party of Ontario, which, although a big tent fiscally conservative party, seeks to attract both pro-life/pro-family supporters – and candidates - for the 2018 election.

We don't know the people at the Trillium Party. However we do know some of the folks at the Alliance Party of Ontario who are strong CLC supporters. We especially want to help the Alliance Party of Ontario get off the ground so that they can field excellent socially conservative candidates, and bring pressure to bear upon the PC establishment.
1,000 signatures needed
One of the prerequisites for the Alliance Party of Ontario to get officially registered with Elections Ontario is to obtain at least 1,000 signatures from eligible voters. Campaign Life Coalition wants to help them get there so that their competitive presence can put pressure on the Brown PCs.

If you are a Canadian citizen, at least 18 years of age, and living in Ontario, would you please download the signature form here, fill in your information and sign the form, and then return the completed original via mail to:

Campaign Life Coalition
C/O: Alliance Party of Ontario registration
104 Bond Street, Suite 300
Toronto, ON M5B 1X9

Please get as many of your friends and relatives as possible to also sign the form. CLC will get the completed signature forms into the right hands.

NOTE: Please do not return the signed form to Elections Ontario. Instead, be sure to send it to us here at Campaign Life, as noted above.
Not withdrawing from the party
Please note that CLC is not suggesting that pro-lifers stop participating in the PC Party.

We always encourage supporters to vote for the pro-life candidate in your riding, regardless of Party, and to volunteer. Support for a local, pro-life, PC candidate, if one exists in your riding, should continue even with a terrible leader like Two-Face Brown. All we're saying is that we can leverage the arrival of this new party to effect positive change in the PC's.
By signing your agreement that this party come into existence, you are not becoming a member of it. Therefore, if you are a member of the PC Party – or a different one for that matter – there is no conflict with you signing this form for Elections Ontario.

Please shoot us an email to say if you're planning to download, complete, and mail us the signature form, which will be a big help with this strategy.