Federal byelections produce a new pro-life MP in Saskatchewan
December 12, 2017
Four byelections were held Dec 11, 2017 in British Columbia, Saskatchewan, Ontario and Newfoundland. CLC worked in each of the ridings to try qualifying and/or supporting pro-life candidates.
Welcome the new pro-life, Saskatchewan MP!
Campaign Life Coalition is so pleased that in the riding of Battlefords-Lloydminster, Rosemarie Falk became the newest pro-life MP to join the House of Commons. There, she will follow in the footsteps of the stalwart pro-life/pro-family former MP for that riding, Gerry Ritz, who recently retired from politics.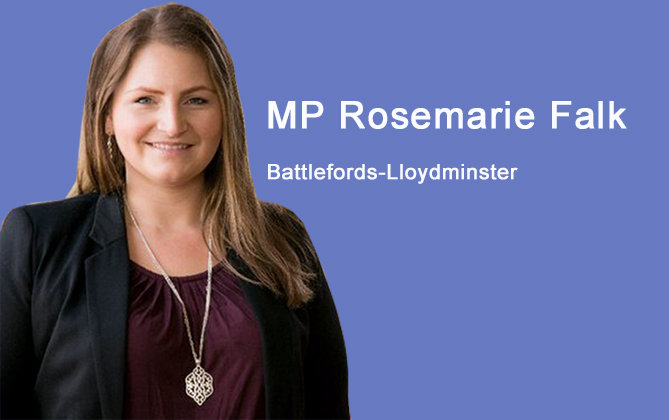 Campaign Life Coalition worked hard to sell Conservative Party memberships to help Rosemarie secure the party's nomination. We also conducted a strong get-out-the-vote campaign leading up to Election Day. She won with a whopping 70% of the vote.
We welcome MP Falk to Parliament and trust that over the years, she will build just as stellar a voting record as her predecessor. We are confident she will do an excellent job of representing her constituents, and the common good of society.
Pro-abortion Liberal takes Scarborough by-election
The Liberal candidate, Ms. Jean Yip, won this by-election by just 1,643 votes against the Conservative, Mr. Dasong Zou. In this case, we believe the Conservatives had a good chance of winning which was very possibly spoiled by the Conservative Party itself.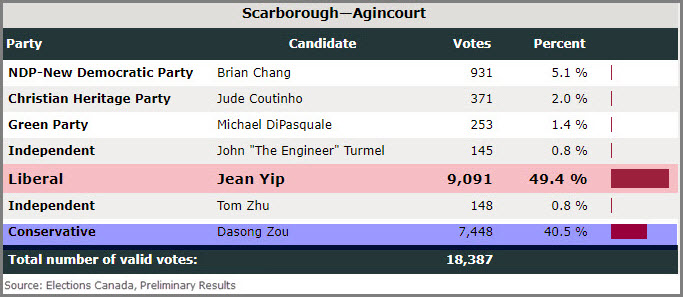 In this heavily-Chinese riding, the Conservative Party had disqualified two, popular, socially-conservative Chinese candidates in order to appoint Zou as the party's preferred candidate, thus bypassing the democratic process.
The unfair disqualifications, especially of Sarah Chung who sold a lot of memberships, left a bad taste in the mouths of many Conservative party members and voters in the riding. In fact, we received intel suggesting that a lot of Chinese socon voters would refuse to cast a ballot for Zou because of their anger at the party for having undemocratically blocked Sarah.
CLC spoke to Zou after the controversial disqualifications and ended up endorsing both he and a Christian Heritage Party candidate, Mr. Jude Coutinho, as pro-life and worthy of support. We worked hard to get-out-the-vote for Zou, as well as the CHP, and to send them volunteers.
However, it may have been the Conservative Party itself which delivered the kiss of death to Zou's chances of winning this seat. Had the party allowed him the chance to win the nomination democratically, without party interference, it would not have placed a question mark on his candidacy, in the Chinese community
We hope the party learns its lesson, and leaves the rigging of nominations to the Liberal Party and to the likes of Patrick Brown. It is conduct unbecoming a federal Conservative Party which loves to boast how much more democratic it is than the Liberals.
Pro-abortion Conservative gets no traction in BC by-election
South Surrey-White Rock was being closely watched because it was previously held by a Conservative MP, Dianne Watts, who quit to seek the BC Liberal Party Leadership. However, the Conservatives nominated the pro-abortion/pro-transgender ideology former MP, Kerry-Lynne Findlay, who ended up losing the by-election by 1,617 votes.
Rod Taylor, the Leader of the Christian Heritage Party entered the race very late to put pro-life issues on the table. We thank Rod and the Christian Heritage Party for getting involved to ensure that someone carried the pro-life banner.
In a close race like this, the Conservative Party would have been smart to nominate a pro-life candidate so as to energize the sizable base of the party that is socially conservative, and who would not get out of bed to vote for a candidate who, as a former MP, voted in a pro-abortion manner and in favour of putting biological males inside girls washrooms (C-279).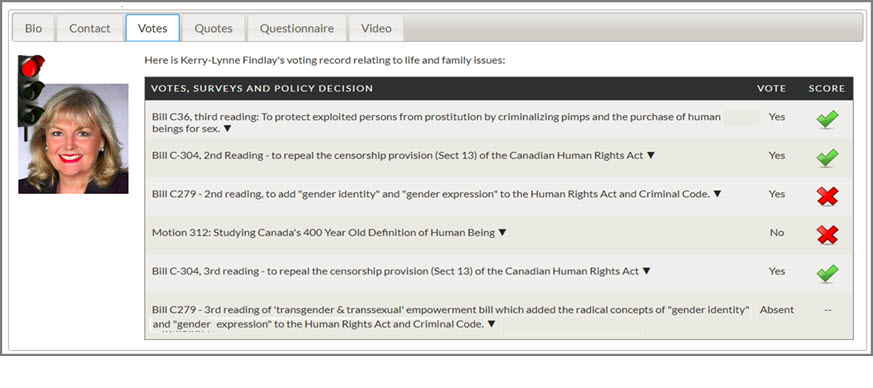 We always encourage pro-life and socon voters to vote for the CHP when possible. Many of these same voters, however, prefer to vote for a mainstream party's pro-life candidate. Had the party chosen a socially conservative nomination candidate, it might well have a Conservative MP in South Surrey-White Rock today.
Safe Liberal seat in Newfoundland stays Liberal
There were no surprises In Bonavista-Burin-Trinity with the Liberals winning with more than 69% of the vote. There was no pro-life candidate in that race, and CLC informed its local supporters of such.