Doug Ford's sex ed repeal – will it happen or not?
July 18, 2018
Over 16,000 Ontarians signed our petition asking Doug Ford to repeal Kathleen Wynne's radical sex ed curriculum by the start of the new school year.
If you were one of those, thank you! The petition may well have made an impression on Doug Ford. During the Throne Speech on July 12th, Ford's new PC government announced that the age-inappropriate sex curriculum would be repealed by September.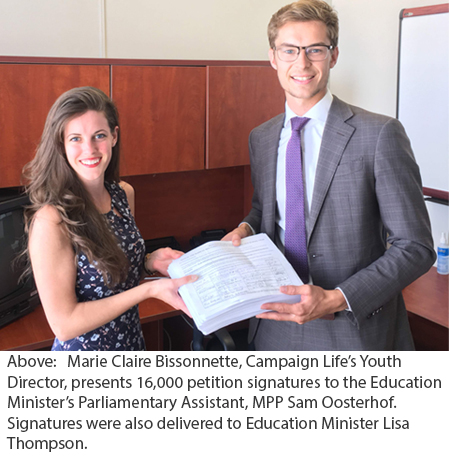 Repealing sex ed was mentioned several times as a centerpiece of the Throne Speech. Ford used very strong language, describing the Liberal sex curriculum and discovery math as "failed ideological experiments in the classroom".
A huge victory moment! Or so we thought.
EDUCATION MINISTER CONTRADICTS DOUG FORD IN APPARENT FLIP-FLOP
The day after the Throne Speech announcement, Canada's entire media establishment launched an orchestrated, fake news campaign against the sex ed repeal announcement.
True to form for the biased, liberal media, they published hundreds of articles and reports making ludicrous, unhinged claims, like that "transgender" and "gay" children would literally die if Ford were to repeal the curriculum.
That was a total lie of course.
It is Kathleen Wynne's age-inappropriate and anti-scientific sex curriculum that puts children's physical and psychological health at risk. And makes them more vulnerable to sexual predators, not less so.
By midday on Monday, Education Minister Lisa Thompson cracked under the pressure from left wing journalists, saying that the anti-scientific theory of gender identity will still be taught to children at an early age, along with sexual consent:
"We know they need to learn about consent. We know they need to learn about cyber safety, we know they need to learn about gender identity and appreciation."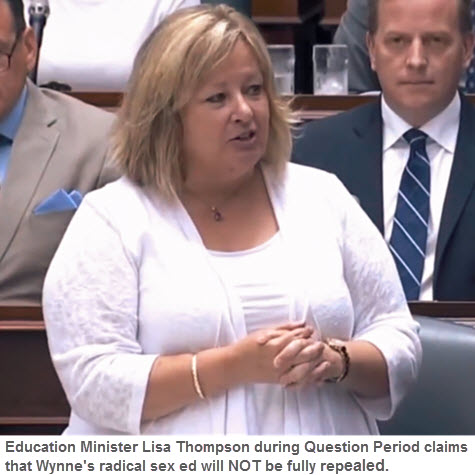 We don't know what Minister Thompson was thinking when she undermined Doug Ford's powerful Throne Speech and promise to parents.
Or perhaps she had forgotten that the voters of Ontario awarded the PCs a super majority, in large part because Ford campaigned on repealing the despised curriculum. The fact of the matter is that voters granted the Ford PCs a super majority and a mandate to implement all the policies Ford promised.
It appeared to have been a knee-jerk reaction by an inexperienced, novice Minister who is not used to being on the other end of hostility from liberal reporters who hate conservative policies.
Furthermore, she doesn't need to fear the leftist media. The next election is 4 years away, and the Ford-hating press can't do anything to hurt him now.
Thompson needs to ignore the radical transgender activists, LGBTTIQ+ activists and union representatives which the fake news media is trotting out to make it look like there is widespread support for Kathleen Wynne's sex curriculum.There simply is not.
The voices demanding transgender ideology be taught by no later than age 8, along with the rest of the child-sexualizing curriculum, are a small minority of activists. Their voices are merely being amplified to look big because their media allies are giving them a platform.

WALKING BACK THE FLIP-FLOP
Thompson clearly received backlash for her comments because just 4 hours later , she issued another statement walking back her apparent flip-flop from earlier in the day, stating:
"As of today, we have made no decisions on what the new curriculum will look like. The final decision on the scope of the new curriculum will be based on what we hear from Ontario parents". (emphasis added)
We sincerely appreciate that correction from Minister Thompson and thank her for making it. We also appreciate that since that mistake, she has consistently stuck to the Doug Ford commitment that the repeal will be a total repeal of the entire curriculum.
We've learned that the left-wing sex activists are bombarding MPP offices with emails. Judging by the volume of messages we're hearing about, and knowing how the left works, it's quite possible that activists are being payed to send hundreds of fake emails over and over.
It's time that Queen's Park begins hearing from parents on our side of the battle so that the Ford administration does not get weary and consider bowing down to the demands of the left. We have a two-part Action Plan that we ask you to help us implement.
ACTION REQUEST #1: ENCOURAGE THE FORD ADMINISTRATION TO STAY THE COURSE
MPPs, the Premier, and the Education Minister must receive encouragement from pro-family parents and concerned citizens to keep Doug Ford's repeal promise. Please follow these 3 steps to ensure the right people hear from us, in greater numbers than defenders of the Wynne/Levin curriculum.
Step 1: Email Education Minister Lisa Thompson at her Ministry office, [email protected], and copy her local office, [email protected]. Then phone her local office and leave similar message for Lisa at 519-396-3007.

Step 2: Email Doug Ford at the Premier's office, [email protected], and include a CC to his local office, [email protected]. Then phone his office and leave a similar message for Doug at 416-325-1941.

Step 3: Email your local MPP using CLC's Action Alert Email tool here which lets you enter your postal code to easily find and email your MPP a pre-written email message. Multiple messages are available to choose from by hitting the refresh button, or you can edit the message to put it in your own words.
ACTION REQUEST #2: PARENTS MUST TAKE-OVER THE CONSULTATION PROCESS
Premier Ford and the Education Minister have made abundantly clear that whatever new curriculum is written to replace the child-sexualizing Wynne/Levin version, it will be based on an exhaustive, province-wide, parental consultation process that will take place in all 124 ridings starting in the fall.
The pro-Wynne Sex Ed activists are extremely well-organized, as we've seen with their media collusion to put out non-stop articles about stopping the repeal. We must assume that our opponents will stack these meetings with people to speak in favour of the Wynne sex program, gender identity theory, etc.
We would like to ask you to please commit - right now - to participate in the parental consultation process, whether in a physical townhall setting or in an online forum. Will you do that? Can you also recruit other parents in your community to do the same when the time comes?
CLC will keep you posted about the locations/timing of the consultation events, once they are made public. We - along with our allies in the Canadian Families Alliance - will also share with you talking points so that you know what to say in those consultation meetings.
Together, we can save the children from Kathleen Wynne and Benjamin Levin's cruel social engineering experiment.