PCPO Convention Success
November 19, 2018
Our team just wrapped up an amazing and exciting Ontario PC Party convention weekend, with significant pro-life, pro-family and constitutional wins!
During Saturday's policy voting, social conservatives made it clear that they are a powerful segment of the PC Party's base.
We sent a message to the party establishment and leadership, that we deserve a seat at the table. And that we aren't going away!
As a result of a massive, months long, coordinated effort by Campaign Life Coalition, approximately 400 of our supporters became delegates.
It took a herculean effort on the part of CLC staff to coordinate that mobilization, getting them to Delegate Selection Meetings, and subsequent hoops to get them registered and attend the convention.
But man oh man, was it ever worth it! The large numbers of CLC supporters at convention produced powerful voting results, which I'm excited to tell you about.
The party of parental rights?
By an overwhelming majority, party members passed three initial policies to reject Kathleen Wynne's radical sex ed curriculum and to affirm parental rights in education.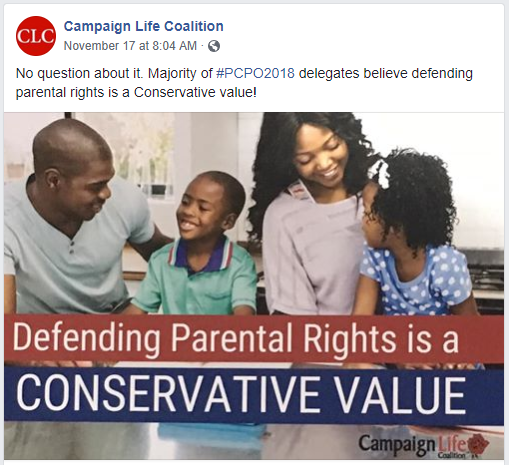 Here is the wording of the 3 policies that we passed, and which are now official party policy:
Resolution 32/33: The PC Party supports legislation to provide ample notice to all parents as to when sex-ed lessons will be taught, and offer parents an opt-out.
Resolution 34:

The PC Party respects the inherent authority of parents as the primary educators of children.
Resolution 35:

The PC Party supports a Parents Bill of Rights



These policies will help us to hold Premier Ford's feet to the fire, so that he keeps his promise to repeal Kathleen Wynne's radical sex ed.
Some scuttled policies returned
At the start of the meeting, the moderator announced that policies which had been previously filtered by the PC party committee could be resubmitted from the convention floor.
We worked with a CLC supporter to resubmit previously scuttled policies on conscience rights, defunding sex-selective abortions, repealing the abortion bubble zone censorship law, and repealing gender identity laws which compel Canadians to utter made up personal pronouns.
Unfortunately, the clock ran out in the voting session before these could be voted on.
However, our good friend, Tanya Granic Allen, resubmitted some of her own pro-family policies which had been previously scuttled by the party establishment ... and they made it for a vote!
Of course, the large contingent of CLC supporter-delegates in the room voted en masse, in favour of Tanya's pro-family policies.
But the amazing thing is that the rest of the delegates in the convention hall also voted YES. And the vote was almost unanimous!
Here are some of the incredible pro-family policies that were passed:
Be it resolved that an Ontario PC Party recognizes "gender identity theory" for what it is, namely, a highly controversial, unscientific, "liberal ideology"; and, as such, that an Ontario PC Government will remove the teaching and promotion of "gender identity theory" from Ontario schools and its curriculum.
Protecting the conscience rights of doctors, nurses and healthcare institutions.
Repealing Kathleen Wynne's sex ed curriculum.
Repealing Liberal Bill 89 which gave adoption agencies the power to ban couples who do not believe in gender identity from being able to adopt children.
Repealing Bill 28 which deleted the words "mother" and "father" from all government forms, statutes, etc.
To be clear, the "resubmitted", previously scuttled resolutions will not automatically become party policy, even though they were passed almost unanimously.
Party officials explained that having passed the vote, this "resubmitted class" of policies will now be automatically sent to the next convention for a vote.
Nonetheless, these were powerful symbolic victories that will help move the party in a more pro-family direction. These votes were also important because it made apparent to the party establishment the undeniable fact that pro-life and pro-family conservatives are a huge segment of the party's base.
As we've said before, CLC estimates that between 40% to 70% of the party's support base is made up of social conservatives.
A blessing poured out upon Canada
I want to emphasize just how important it was that CLC supporters helped to pass Tanya's policy declaring "gender identity theory" to be "unscientific, liberal ideology" and affirming that the party believes it must no longer be taught in our schools.
You and I know from talking to the people around us, that ordinary Canadians do not believe in gender identity theory. Yet, the biased mainstream media pretends - through continuous propaganda - that society now accepts and celebrates transgender ideology.
Well, the fact that the PC Party as a whole just voted to reject gender identity theory has shattered the media's fraudulently-constructed narrative. Front page headlines about this vote have made it clear that society has not accepted this controversial and scientifically-fraudulent philosophical theory.
This gives us a foothold to continue the battle to protect our children from this harmful transgender ideology, not only in Ontario, but throughout all of Canada.
And that, is a blessing from heaven, sent at a desperate time in this down-spiralling culture.
Party is now aligned with Premier Ford on conscience rights
During the campaign trail, Doug Ford promised CLC that he would bring forward conscience rights legislation to protect doctors from being coerced by the College of Physicians & Surgeons to participate in (or give referrals for) euthanasia and abortion.
With the conscience rights policy given a stamp of approval by the membership, the party is now finally aligned with Doug Ford on consciene.
We hope the party solidarity shown this weekend on this issue will encourage the Premier to proceed quickly with legislation similar to that passed in Manitoba.
Democratizing the party & preventing fraud
On Sunday, we voted on dozens of proposed constitutional amendments.
CLC had endorsed 12 amendments in particular that would have benefitted social conservatives by making it harder for the party establishment to cheat socon members out of having their voice heard, and by making the party generally more accountable to members.
The constitutional amendments required a higher majority threshold in order to pass. Two-thirds of delegates must vote yes for the amendment to be adopted.
Of the 12, three of the CLC-endorsed amendments passed including an important one that bans cash sales of memberships, a common way for candidates to win nominations with fraudulent memberships.
Election of the new party executive
On Sunday, delegates also voted for the new party executive, essentially the Board of Directors who will run the party. CLC had endorsed a number of candidates who committed to ending the corrupt practice of rigging nomination elections and policy conventions against social conservatives.
Not all of our endorsed candidates won, but we are pleased that three did.
Preparing for next year
We are so grateful to our amazing supporters who sacrificed their time and money to attend this convention to vote with us, and to volunteer with the various lobbying strategies that CLC employed on the covention floor.
YOU made this convention a success. A special thanks to all those who donated to our WonderWe fundraising page. If you haven't yet donated, we're still hoping to break even with our expenses, which included producing and printing literature and booth rentals etc. and any contributions would be greatly appreciated.
The next PC policy convention will be in approximately 12 months. We must be prepared to have even a much larger presence of pro-life and pro-family PC delegates at that time.
The left will be mobilizing to try to beat us by signing up "temporary Conservatives", just for the votes. We estimate we need to have an additional 500 social conservatives at the next convention.
Please consider joining us for the next one. We'll need you.
Thanks, and God bless,
Jeff Gunnarson
President Campaign Life Coalition