Concerned Citizens Rally at TCDSB Headquarters
November 27, 2019
Dear Concerned Citizens,
Yesterday, around 40 concerned parents, grandparents, and other citizens and clergy joined together for a peaceful rally in front of the headquarters of the Toronto Catholic District School Board (TCDSB). Participants gathered to speak up for our children and for biblical truth, standing against the terrible harms of Gender Ideology.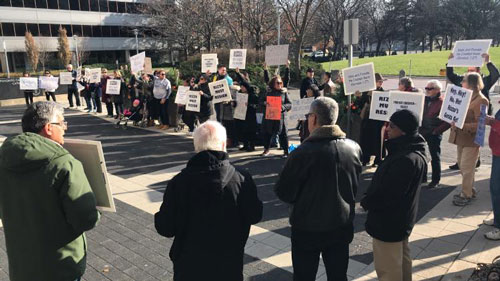 Many carried signs demanding the immediate resignation of Maria Rizzo, TCDSB chairwoman, for her role in imposing Gender Theory upon every Catholic elementary and secondary school across Toronto. In blatant defiance of Holy Scripture and Church teaching, Ms. Rizzo has relentlessly advocated for Transgenderism, voting against the "Catholic values" subcommittee on Oct. 30th, and pushing the Board to adopt the erroneous concepts of "gender identity" and "gender expression" on Nov. 7th.
Gender Ideology denies that God created humans as male and female; it promotes the use of dangerous artificial hormones and mutilating "sex change" surgeries; it undermines the privacy and safety rights of girls; it fosters gender confusion among youth.
In her efforts to push the pro-LGBT agenda, Ms. Rizzo has targeted faithful Catholic Board members with vitriolic slurs, referring to Mike Del Grande, Gary Tanuan, Teresa Lubinski, and Nancy Crawford as homophobes and hypocrites.
Ms. Rizzo has even resorted to infantile scare tactics, sending intimidating letters to constituents who criticized her position, threatening police and legal action if they so much as write her again! (Check out the letter here).
At yesterday's rally, I read out loud our petition calling for Ms. Rizzo's resignation: "I am calling on you to do the right thing and resign as trustee...owing to your public support for the anti-Christian ideologies of Gender Identity and Gender Expression... You have betrayed Catholic teaching and violated the trust placed in you by Catholic parents and ratepayers..."
I also declared the words of our Lord Jesus Christ in Matthew 18:6: "Whoever causes one of these little ones who believe in Me to sin, it would be better for him if a millstone were hung around his neck, and he were drowned in the depth of the sea. Woe to the world because of offences! For offences must come, but woe to that man [or woman] by whom the offence comes!"
When we attempted to enter the TCDSB offices in order to deliver our petition to Ms. Rizzo, we were shocked to discover that security staff would not let us pass and would not answer our questions. In fact, in an even more shocking move, security personnel physically locked all the doors into TCDSB headquarters. They literally locked us out – shutting out the voices of 2,274 petition signers! What a disgrace!
TCDSB closed the doors to parents, but opened the doors to LGBT ideologues!
Not only that, but they even called the police on us. Two police cruisers arrived on the scene.
Furthermore, security staff warned us that we were trespassing! Can you imagine that? How could we be accused of trespassing just for standing on taxpayer-funded property, seeking to deliver a petition to a democratically-elected public official?
It's outrageous! You'd think we were in Communist China.
After pleading with the silent security staff for about ten minutes to let us go in to deliver the petition – and after police intervention, a TCDSB official finally came out to meet us. She politely received our petition and promised to deliver it to Ms. Rizzo's office.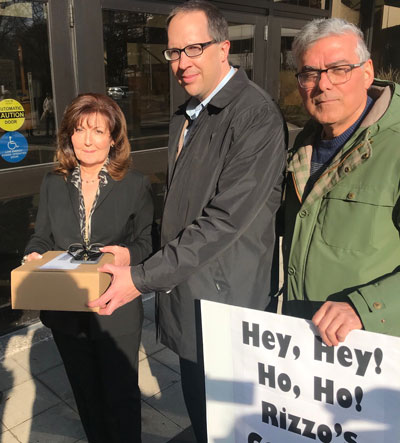 We are glad that Ms. Rizzo has now gotten our message. We are also glad that the staff at TCDSB headquarters could witness our rally and hear our concerns. However, we are deeply disturbed by the Gestapo-like tactics employed by Ms. Rizzo as she tries to clamp down on any and all opposition to her pro-LGBT agenda.
The spiritual battle that we face as Christians - as we stand for God's truth - came to life on the ground, yesterday, in front of TCDSB headquarters!
Our sincerest thanks go to every one who took time out of their day to attend our rally and be a voice in defence of our children and youth. If you were unable to attend and you have not yet signed our petition, you may do so here: https://www.campaignlifecoalition.com/petition/id/27
You can also watch our Facebook Live video of the rally here: https://www.facebook.com/CampaignLifeCoalition/videos/1414654952022362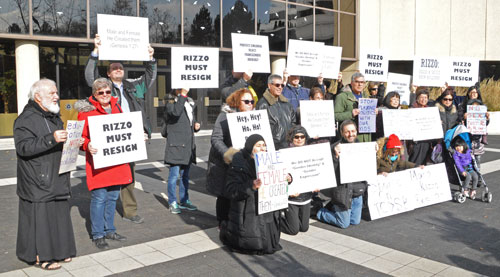 Additionally, be sure to check out these LifeSite News articles exposing the unfolding drama at TCDBS:
Let's keep praying for Ms. Rizzo and all the Trustees at TCDSB, especially as a vote will take place tomorrow for a new chairman. May the Lord speak to their hearts!
For Life, Family, & Faith,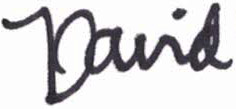 David Cooke
Campaigns Manager
Campaign Life Coalition
www.campaignlifecoalition.com
P.S. If you have already signed our petition, please share it with friends and family: Share Our Petition