A news source you can trust on the issues that matter most
April 1, 2020
Dear Supporter of Campaign Life Coalition,
You may or may not be familiar with The Interim, Canada's pro-life and pro-family newspaper.
In 1983, Campaign Life Coalition launched this national pro-life newspaper because the mainstream media either ignored life and family issues or were biased in its reporting of these issues – even back then.
The Interim is still operating 38 years later. But many pro-life and pro-family Canadians are unaware of this informative and inspiring monthly newspaper.
Campaign Life Coalition is sending the April edition to you by email, as a sample.
Some of you may receive a copy of the paper by mail even though you are not a subscriber. It was a difficult decision, but due to unavoidable budgetary constraints, you will no longer be receiving it by mail without a paid subscription.
We hope you will enjoy this PDF copy of the same paper you would normally receive by Canada Post: CLICK HERE TO VIEW
If you do not receive the paper regularly, we hope you enjoy this complimentary, April 2020 edition of The Interim, featuring stories on the Liberal government's conversion therapy ban, the Conservative Party leadership race (including how two pro-life candidates were kept off the final ballot), the rush to pass the anti-free speech bubble zone law in Nova Scotia, an array of intelligent pro-life and pro-family commentary you will not find anywhere else, and a large round-up of covid-19 stories that have a life and family angle.
If you are looking for something lighter and fun, we recommend Joe Campbell's "Light is Right" column and this month's "And then there was this" feature.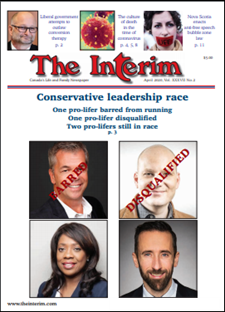 If you like what you read in this free trial issue, and think it is worthwhile to support Canadian journalism that shares your values, please subscribe to The Interim via this link to Campaign Life Coalition's website:
https://www.campaignlifecoalition.com/products/section/newspapers/#item17
We are offering one-year print subscriptions for $40 (nearly 20% off the regular price of $49) and $20 digital subscriptions (regularly $25).
We are in the process of upgrading The Interim website and hope to provide the digital version through an option other than a PDF soon, along with updated and breaking stories as they happen.
We appreciate that these are uncertain and difficult times. But we have kept our employees on payroll so they can support their families.
We hope you find some value in continuing to put out a unique pro-life and pro-family publication. And the monthly schedule means you will not be inundated with emails from The Interim on a daily or weekly basis.
We are not a religious newspaper but we are Christian and our hope is to show in our reporting, Christ's love and His Divine action through the people and events we write about.
Yours for life,

P.S. To subscribe to either a print version or a digital version of a 1-year subscription to The Interim newspaper, click here.