Letter to Archbishop Leo
May 31, 2023
-----
Josie Luetke
Campaign Life Coalition
157 Catharine St N, 2nd Floor
Hamilton, Ontario, L8L 4S4
May 31, 2023
The Most Reverend Archbishop Francis Leo
Archdiocese of Toronto
1155 Yonge Street
Toronto, Ontario, M4T 1W2
Your Grace Francis Leo,
Welcome to the Archdiocese of Toronto!
I'm a sinner like everyone else, a parishioner at St. John of the Cross in Mississauga, and also the Director of Education and Advocacy for Campaign Life Coalition.
I know with your installation, you have likely been bombarded with many urgent requests. I'm sorry to add to the list of areas requiring your attention, but the Catholic school boards under your jurisdiction are in dire straits, and I do not say that flippantly.
The Catholic school boards of Dufferin-Peel, Durham, Simcoe Muskoka, Toronto, and York are all, to varying degrees, celebrating Gay Pride month, some even raising the rainbow flag outside schools and/or board offices. This development, although deceptively framed as a gesture of love and tolerance, is wrong.
We can have a lengthy theoretical discussion about that, but I write to share a real story of its practical repercussions.
A friend of mine has a 15-year-old sister attending a school in the Durham Catholic District School Board who is confused about her gender identity and wants to be treated as a boy.
Her parents are Catholic and opposed to transgenderism, but the school, instead of helping, is actively encouraging their daughter to transition. Please see the document she received at school from a social worker.
Why is a student (then 14 years old) being counselled to use "binders, packers, STPs (stand-to-pee devices), breast forms, panty girdles, padded underwear," etc.?
Does that not turn your stomach? Does that not paralyze you with fear and distress?
It's disgusting for any adult to be fostering such perverse experimentation in youth – especially in a Catholic school.
Why was she encouraged to "make plans, research, or take small steps towards [her] long-term social, medical, and/or legal transition goals"?
Does that not fly in the face of Catholic teaching? Is it not deeply unethical considering the physical, psychological, and spiritual harms of transitioning, which many detransitioners have helpfully been bringing to light?
And why are students being directed away from parents and towards anonymous strangers on the internet?
My friend feels almost powerless to stop her sister from going down this path, and it's wreaking havoc on the mental health of their entire family.
Parents should be able to send their kids to Catholic schools trusting that these places are safe and, well, Catholic.
Sadly, this is not an isolated incident.
I know of other youth struggling with gender dysphoria whose faithful parents are at loss with how to aid them, and feel betrayed by Catholic institutions.
The Toronto Catholic District School Board continues to list on their website LGBTQ YouthLine as a "Student Mental Health and Wellness Resource." YouthLine, in turn, lists dozens of problematic resources, including information on "buying your first chest binder," forms on how to legally change your sex on identity documents, "safer sex guides" for "trans men" and "trans women," etc.
The TCDSB's very own Pride Month website is similarly heartbreaking, and I urge you to peruse it yourself. They include a resource from The 519 agency falsely claiming, "all people have the right to access washrooms, change rooms or other gendered spaces based on their lived identity – how they choose to identify and present themselves to the world. Their birth-assigned sex has no necessary correlation to their lived identity."
As Catholics, again, we know this assertion is false and harmful.
I really could go on and on with examples of the lies and deceit encouraging sexual depravity and corrupting Catholic schools; they are abundant.
However, I hope it is already evident that the situation requires your immediate intervention.
Please direct the "Catholic" schools in your jurisdiction to cease condoning transgenderism, homosexual activity, and anything else which violates Catholic teachings and harms students (amongst others). Should school boards refuse to heed your authority, please be prepared to strip them of their Catholic titles.
The label is doing more harm than good at this point, and grossly contributing to the sin of scandal. The parents of my friend, for instance, sent their child to a Catholic school with the reasonable expectation that she would be instructed in the faith. Instead, they now fear that she will be taken from them, and have irreversible damage done to her body.
We have gotten to this place because other Church leaders have not taken sufficient action, convinced that public funding justified their tolerance of the LGBTQ lobby's infiltration of schools—with Gay-Straight Alliances, Ontario English Catholic Teachers' Association's participation in the Pride Parade, additions of "gender identity" and "gender expression" to Codes of Conduct, etc. These leaders bear responsibility for what has unfolded, and so, too, will you if you choose not to act. I say that with all charity and humility, but I confess I am also jaded by too many clergy members who have failed their flock.
I am pleading with you to please intervene for the sake of these troubled and confused youth and for the preservation of the faith, which is threatened by every compromise made.
Now is the time for great courage, and I lend you my every prayer so that the Lord may grant you the strength necessary to take decisive action. I cannot imagine the extent of the fallout if you do, in fact, demand that all "Catholic" institutions in the Archdiocese end any promotion of transgenderism and homosexuality, lest they lose the "Catholic" name, but I don't need to imagine the fallout if you don't. I witness the fallout nearly every day, and it rattles my soul.
With thanks in advance for your prayerful consideration,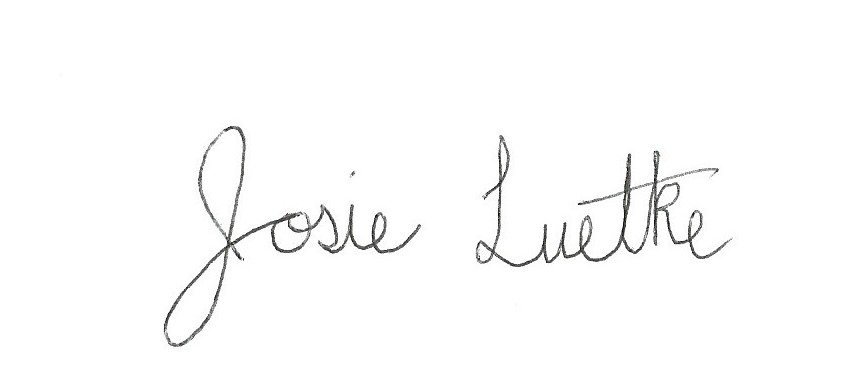 Josie Luetke
Director of Education & Advocacy
Campaign Life Coalition