MPP Admits "Hope" that Bill 13 Will Normalize Homosexuality In School System
June 5, 2012
On the afternoon of Monday June 4, 2012 the legislative assembly of Ontario held its final debate on Bill 13, the so-called "Accepting Schools Act", which thousands of parents have protested against for fear of a homosexual agenda. Most MPPs vehemently deny that Bill 13's real goal is to normalize homosexuality in the minds of school children.
However in the final Bill 13 debate at Queens Park, New Democrat MPP, Cheri DiNovo (Parkdale-High Park) addressed MPPs with a lengthy speech on Bill 13 in which she candidly described her "hope" that in the future, "the school system sees 2 mothers or 2 fathers as just as normal a family group, as a male and female". Listen to the audio from her speech below.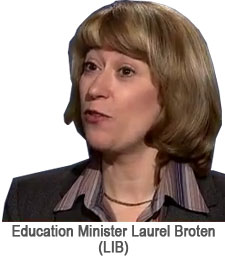 This admission is not far off from the one Liberal Education Minister Laurel Broten gave a short time ago during a scrum on Bill 13. A Toronto Sun journalist asked Broten why she has her children in Catholic school if she disagrees so much with Catholic teaching on homosexuality. Minister Broten replied: "This is about having schools where our students, if they draw a picture of their family and it has two moms in it or it has two dads, that they know that other pupils in that classroom understand and know that's just as loving a family as theirs".
With candid statements like these from high ranking politicians on the education file, it seems almost comical to deny there is a gay agenda. The final vote will occur Tuesday June 5. Contact your MPP before the vote and urge them to reject Bill 13.