Petition demanding appeal of assisted suicide ruling presented July 12 to Attorney General
July 13, 2012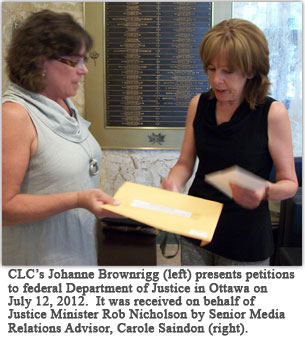 With the deadline fast-approaching for the Canadian Government to appeal the judicial decree of the BC Supreme Court on euthanasia, CLC presented a petition demanding that the Attorney General of Canada immediately appeal the dangerous ruling.
At 1:15 p.m. Thursday July 12th 2012, Campaign Life Coalition hand-delivered a petition signed by hundreds of concerned citizens, to the federal Justice Department in Ottawa. CLC's federal lobbyist, Johanne Brownrigg, presented the petition in person to Carole Saindon, Justice Department Senior Media Relations Advisor, who cordially accepted the petition on behalf of the Attorney General.
The petition asks the Justice Minister, Hon. Rob Nicholson to appeal the BC Supreme Court ruling on 'physician assisted death' before the July 16th appeal deadline.
The petition was signed by hundreds of Canadians, from every province, who are opposed to Justice Lynn Smith's ruling. It also calls on the Attorney General of Canada to send a stern warning about judicial-activism to future courts, by making a public declaration that the Government of Canada will invoke the 'Activist-Judge Override Provision" (a.k.a. Charter section 33), if necessary.
Continue the fight for life!
Campaign Life Coalition thanks those of you who signed our online petition, thus making it possible to apply this pressure to the Attorney General of Canada, Minister Rob Nicholson. However, we encourage you to keep up the pressure by phoning Mr. Nicholson's office and asking him to not delay in appealing the decision. His telephone numbers are: Tel: 613-995-1547 (House of Commons office) Tel: 905-353-9590 (Constituency office).

Another way you can continue fighting to uphold our criminal code prohibition against euthanasia and assisted suicide, is to help influence public opinion. Why not write a letter to the editor of your local (and national) newspaper? Our automated Letter-To-The-Editor program identifies your local papers based on your postal code, and gives you a choice of publications.
Then, it provides you with talking points to help you write a customized letter through our website. Choose one or two "talking points" along the right hand side to help you personalize your letter. We've placed a limit of 250 words which the program will count for you.
In the final step, just press SEND and it gets transmitted it to the media outlets of your choice, from your email address. Note: if your local paper isn't listed, please send us the name along with an email address for the Editor so we can update our database. Also, if your letter gets published, please let us know!