Action Alert on Motion 312: Contact all Members of Parliament with one-click
September 20, 2012
Update: September 24, 2012
This Action Alert has been deactivated. We had such a huge response from people using the Action Alert over such a short period of time, that it caused problems for our server… but not before Members of Parliament had their inboxes completely inundated by requests to support Motion 312! Therefore, unfortunately, we had to take the Action Alert tool offline while the server problem gets resolved. Unfortunately, it will not be resolved before the September 26th vote.
In the meantime, please email and if you can, phone your MP, urging them to vote in favour of M312 tomorrow. You may find your MP's email address by inputting your postal code at this page here.
Originally published: September 20, 2012
Let's pass Motion 312!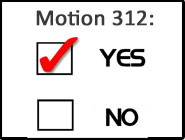 We have 6 days remaining before the second reading vote on Motion 312 by Member of Parliament Stephen Woodworth.
Campaign Life Coalition has been pleased to support Mr. Woodworth's motion. It has sparked a much-needed national discussion which highlighted the fact that Canada's 400 year old definition of human life recognizes children before birth as non-human.
As a final push, to help sway parliamentarians to vote in favour of Motion 312, we have created an Action Alert tool that allows you to email all 308 members of parliament with a click of your mouse. You just fill in your information and then send a pre-written message that can be personalized. The members of parliament will receive the email from your personal email address.
PRESS HERE TO SEND A ONE-CLICK EMAIL TO ALL MEMBER OF PARLIAMENT IN SUPPORT OF MOTION 312.

After filling out the one-click Action Alert, please consider also phoning your MP and urging them to vote in favour of M-312. You can look up your MP's phone number by entering your postal code here, then click the tab.
You may read the full text of the Kitchener-Centre MP's motion here.


Thank you and God bless,



Jim Hughes
Campaign Life Coalition