CLC Youth is the youth division of Campaign Life Coalition, Canada's largest pro-life and pro-family organization. CLCY is a network created to help young people get involved in the pro-life movement through street activism and political participation. Our goal is to educate the public on life issues and to elect a government that will implement laws which give human rights to all human beings.
Young people have a special role to play in transforming the culture of death into a culture of life. Politicians pay special attention to the voices of young people. Our fellow youth, often lacking financial resources, are particularly vulnerable to abortion and need support from friends and classmates if faced with a crisis pregnancy. Finally, our own generation are the leaders of tomorrow. The changes to the hearts and minds of our peers that we make today will largely determine whether we are able to end abortion in our lifetimes.
By joining CLC Youth, you will receive action alerts that keep you updated on pro-life events in your area and exciting opportunities to get involved with your local pro-life candidate.
We are pro-life. We recognize that human rights belong to all humans. We demand equality for those who need it most.
---
Summer Student Internship
The student internship program run by Campaign Life Coalition and The Interim newspaper is designed to challenge and reward a select number of young people with the unique opportunity to work full-time in the pro-life movement during the summer months. This internship is intended to form future leaders by providing interns with an in-depth opportunity to become active in the largest and oldest pro-life and pro-family organization in Canada. Our interns have gone on to have many exciting and fulfilling careers, such as in religious ministry, education, politics, media, business, health care, etc. Many have continued to work for the pro-life movement, either as an employee of Campaign Life Coalition, or with another organization.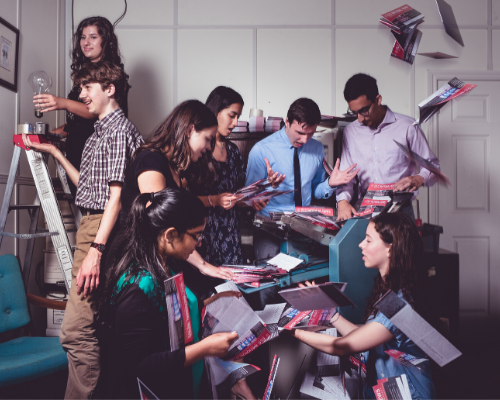 Internship Description:
All interns will be expected to work a full 40-hour workweek, during which time they will report to a supervisor. Interns will rotate through various assignments and supervisors in the office on a weekly or biweekly basis to give them an appreciation for the breadth of the work we do - from administrative tasks, to writing and researching for The Interim and The Interim Plus curriculum, to assisting our political team, to helping organize Life Chain, to engaging peers through CLC Youth and social media, etc.
In addition, each intern will be expected to participate in weekly activism and attend weekly training sessions to learn more about pro-life apologetics and the many facets of the movement and to practice their newfound skills. Interns will have the privilege of attending various events and conferences on behalf of Campaign Life Coalition and meeting various pro-life leaders, such as the Sisters of Life, Silent No More Awareness Campaign's Angelina Steenstra, Euthanasia Prevention Coalition's Alex Schadenberg, etc.
If you're not sure which arm of the pro-life movement you're most drawn to (educational, political, pastoral) or you want a taste of it all, this internship is for you.
The application process for our 2020 summer internship has ended. Please consider applying next year for our 2021 internship.
Testimonies from Past Interns: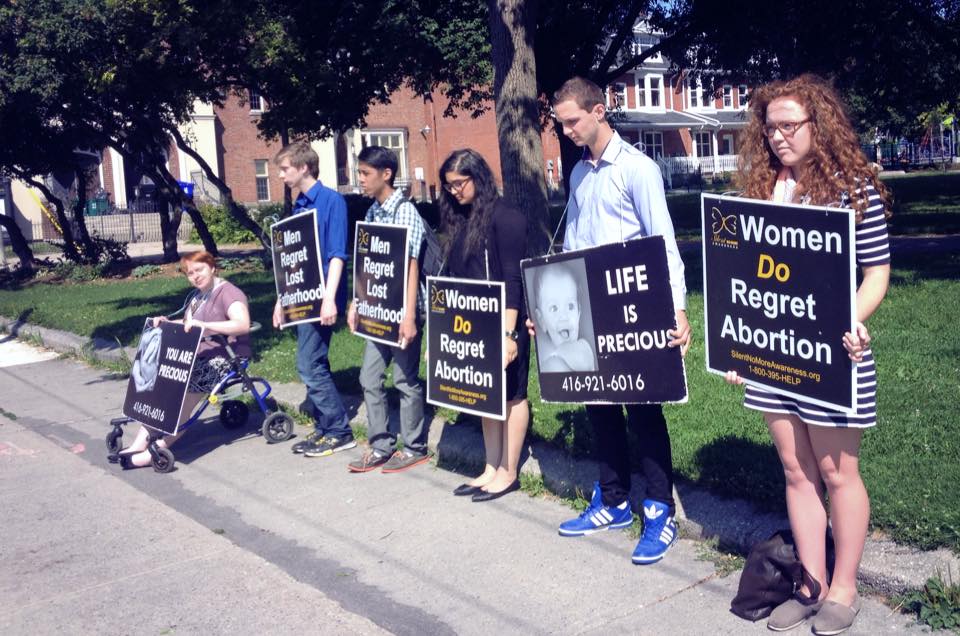 "I would recommend this job because I think that it helped me to grow, not only in my knowledge of pro-life issues, but in my faith and as a person in general." ~Nikola, Summer '19
"I learned that there are so many more people who are fighting for life than I could have ever imagined. I never had any idea how big this movement really is. I have also learned that we will never be able to instantly change all of society, but that we must still strive to change the perspective of one person at a time because that can change their world." ~Anna, Summer '19
"I would recommend this job experience to others as it brought a lot of satisfaction and joy to my life. I would recommend the internship to anyone who is looking to make a real difference in the world." ~Greg, Summer '18, '19
"Before the beginning of the summer internship, I wasn't too sure what to expect working for Campaign Life Coalition. I was excited to broaden my experience and involvement in the pro-life movement, and thus far, I can say that this internship has gone above and beyond to truly help us understand why the fight for life is such an urgent cause. Being a hands-on learner, I highly appreciated experiencing the weekly street activism we do, as well as all the tasks I am assigned weekly, knowing that it goes towards a greater purpose. Being involved in this movement and working for CLC has guided me towards realizing my passion - sharing the pro-life message. As much as I'm trying to make a difference in the lives of those around me by conveying this message, I can honestly say that it's the most vulnerable and defenseless people in our society - the unborn - who have made the biggest difference in my life, by making me realize that they need a voice too." ~Arianne, Summer '17, '18
"...so far the experience could not have been better. The speakers I've listened to and the workshops I've taken part in have given me new insight and extensive knowledge on the pro-life movement. The street activism I have been participating in with organizations such as Show the Truth and Aid to Women have also been great experiences. I now hope to use the knowledge and experience I've gained to solve the issues in Canada, such as abortion and euthanasia, amongst others, through hard work, activism and prayer." ~Christopher, Summer '17
"I would especially recommend Campaign Life's internship to anyone who is new to the pro-life community. You'll make great friends, learn a lot about the history of the movement, and gain experience in its educational and political domains." ~Taylor, Summer '13, '14, '15
"My experience as a summer intern at Campaign Life Coalition was so fruitful. I was blessed to meet knowledgeable and dedicated pro-lifers, and to learn from their rich and varied experiences in different aspects of the pro-life movement: education, politics, journalism, youth engagement, and more. I would highly recommend the CLC internship experience to anyone seeking to advance the pro-life movement in Canada." ~Natasha, Summer '13
---
Take Action
WHY WE NEED TO ACT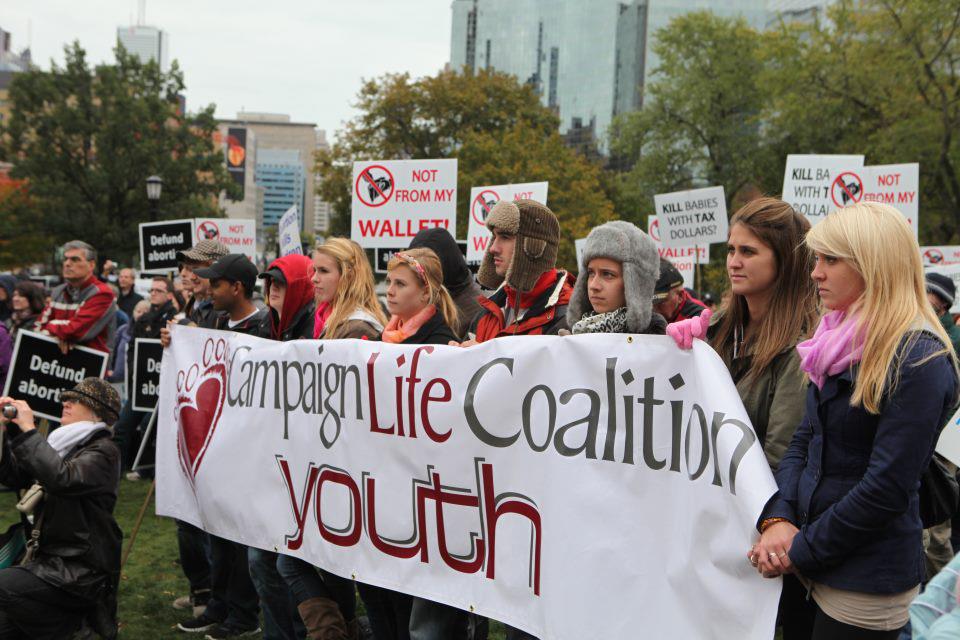 Canada is the only western democracy that has no restrictions on abortion. Abortion is fully funded by taxpayers, and is now being exported to developing countries. Some of Canada's biggest political parties have disallowed pro-lifers from running as candidates altogether.
Euthanasia is legal, and it is likely that it will be extended to teenagers and the mentally ill in the near future. Even the conscience rights of doctors who do not want to kill their patients is up for debate. There are few, if any, countries that have embraced the culture of death to the extent that Canada has.
This is why we need to act. We who embrace life, we who believe that all human beings have an inherent, equal, and unconditional right to life, need to get our message out to our communities and to our politicians in order to make an impact on Canada's political and social landscape. It is only through actively voicing and sharing our views that we can hope to educate our communities, change the hearts and minds of those around us, and build a culture of life in Canada. The impact that us pro-life youth can have on changing our country is immeasurable, if only we are committed enough to our cause.
Sign & promote petitions
There's strength in numbers. Sign and promote our petitions so that our voices can be heard! Sign NOW!
---
GET POLITICAL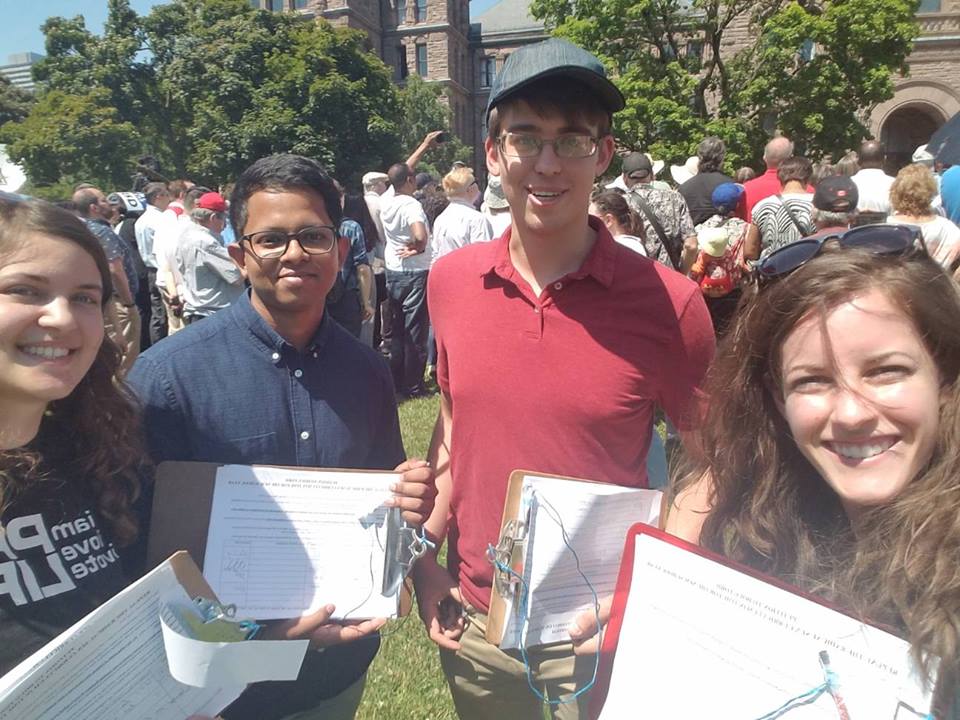 In Canada, we have a parliamentary system consisting of three branches: the executive branch, the legislative branch, and the judicial branch. The executive branch, which implements and enforces the law, is made up of the Monarch; her representative in Canada, the Governor General; the Prime Minister; and the Cabinet, which is comprised of a number of Ministers responsible for different portfolios, such as Foreign Affairs, Health, International Development, etc.
ADOPT YOUR MP TODAY. Let's face it. Without your vote, your MP or MPP is powerless. Voting once every four years however, just isn't going to cut it. By going directly to your MP or MPP, you can ensure your voice is heard year-round. And get this, you have an advantage that the majority of your riding does not have: your age. Find out how to influence them for the better.
SUPPORT PRO-LIFE CANDIDATES DURING NOMINATIONS AND ELECTIONS. In Canada, we are privileged to live in a democracy. We have the ability to elect our federal, provincial and municipal representatives that create laws in society's best interest. To stop the murder of thousands of preborn children a year, it's paramount that Canada recognizes the right to life of the preborn by law. We need to nominate and elect pro-life politicians who will vote pro-life and bring forward pro-life bills.
---
Bring in a clcy speaker to your class or youth group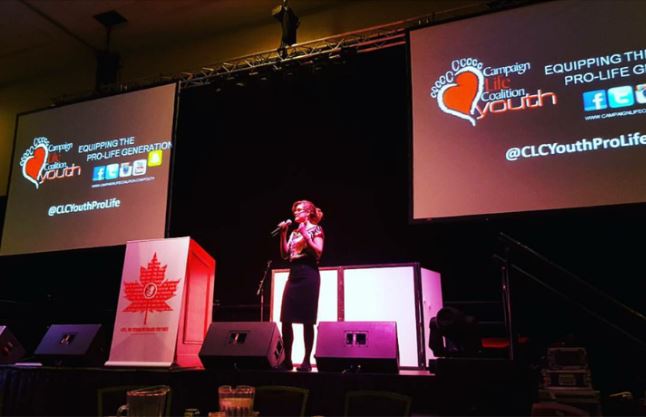 A very effective way to change hearts and minds is to present our pro-life stance through facts, logic and comparison. CLCY has a group of young, articulate, and trained public speakers to travel across the country to connect with young people interested in educating themselves on the pro-life issue and getting more involved. We offer a variety of talks that introduce the pro-life issue to youth in classroom or youth group settings. We've witnessed hundreds of youth go from pro-abortion to pro-life because of these presentations.
Among the most popular is Pro-Life 101, a logical, scientific and ethical approach to abortion by examining when human life begins, what abortion is, who should have rights, and the effects of abortion on women and children.
To book a speaker, e-mail [email protected] today!
---
Attend our NATIONAL MARCH FOR LIFE
Interested in going to the LARGEST pro-life event in Canada? Click here to find out more information on how you can join 15,000+ young people on Parliament Hill to show the government that abortion is not a closed issue in our country, and we will never be silenced until ALL human beings are protected in law. If you are interested in joining the March for Life Youth Committee responsible for organizing the Candlelight Vigil, Youth Banquet, Youth Conference and more, please e-mail us at [email protected]!
Plan your trip with help from our new youth trip planner!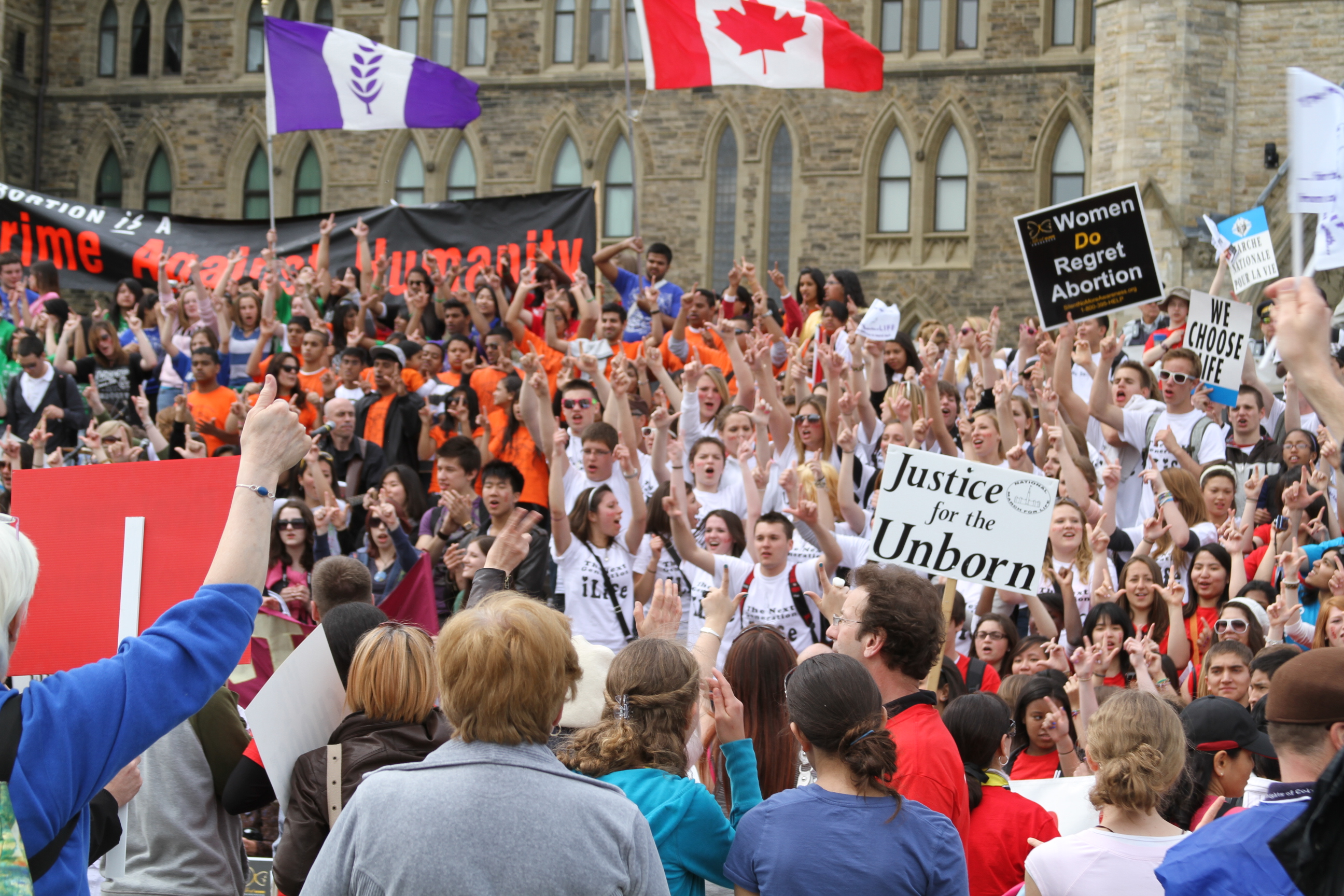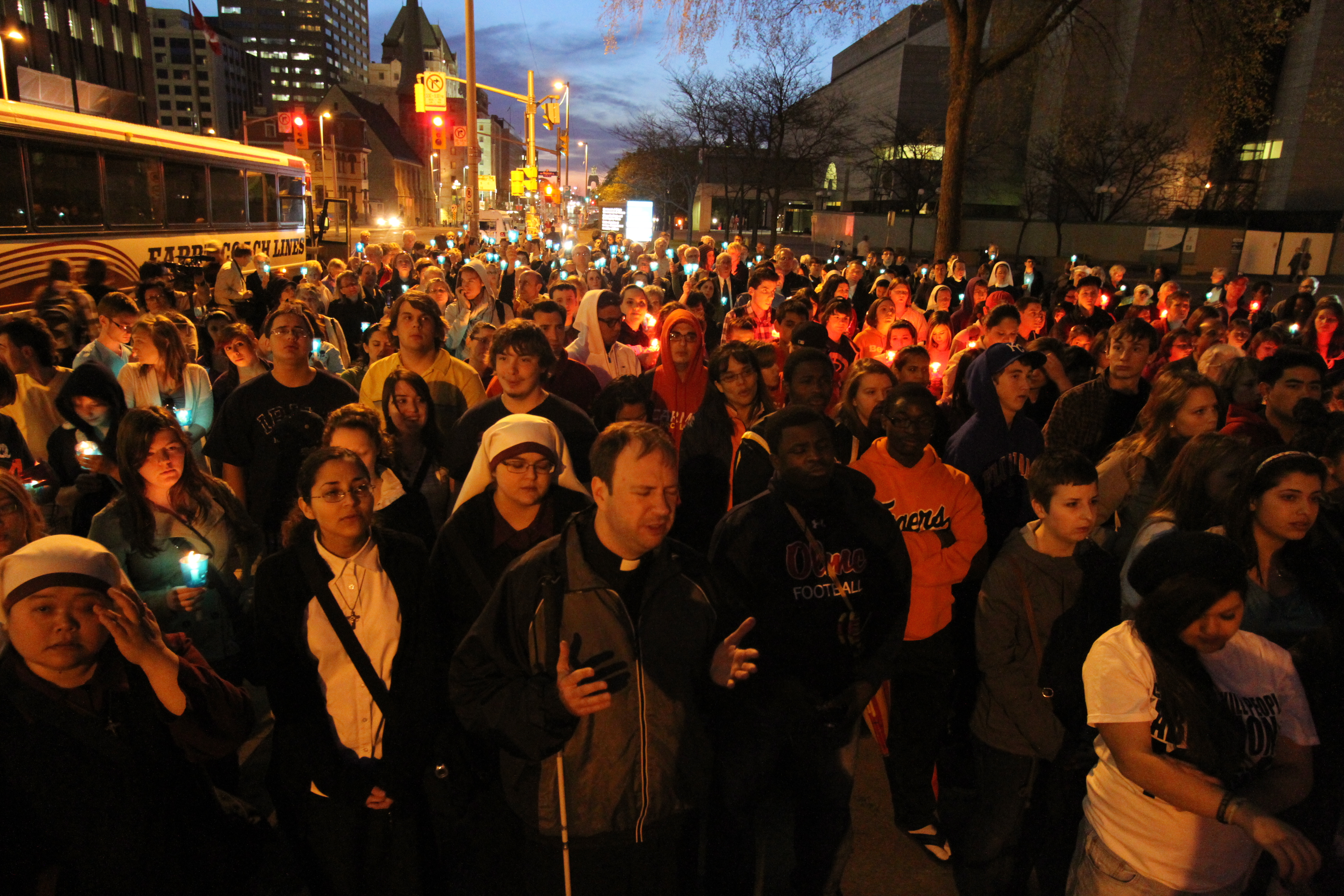 ---
CLC Youth At The U.N.
The United Nations has been at the forefront of abortion promotion and funding, and Canada is becoming one of the most aggressive countries at the UN to push this abortion agenda. In March of 2017, Trudeau announced a three-year plan to spend 650 million Canadian tax dollars on reproductive rights (ie abortion and contraception) in third world countries. This is why it's imperative that pro-lifers tackle the issue domestically AND globally. Canada is not only killing Canadian babies.
Since 1994, Campaign Life Coalition has sent a contingent of young people to the United Nations in New York or Geneva. Our youth report on NGO events and document negotiations, as well as lobby ambassadors and delegates to consider the pro-life view. On occasion, our youth will even have the opportunity to help run a U.N. event or side-event.
CLC Youth will be going back to the U.N. in March 2020. If you're interested in joining us, please e-mail [email protected] today!
Check out our Youth Blog for regular U.N. updates.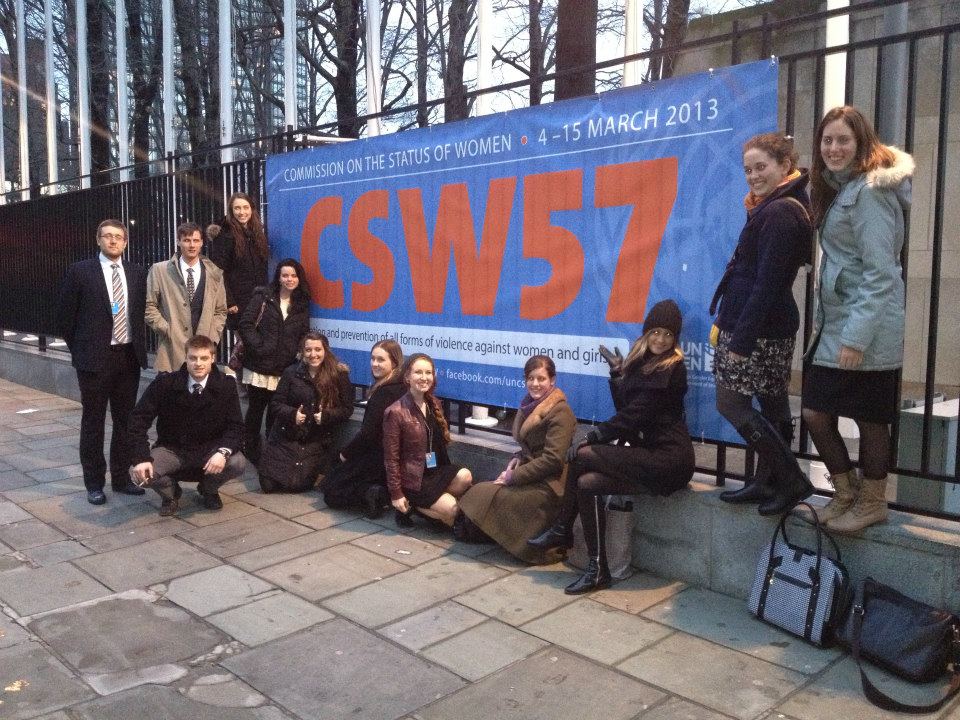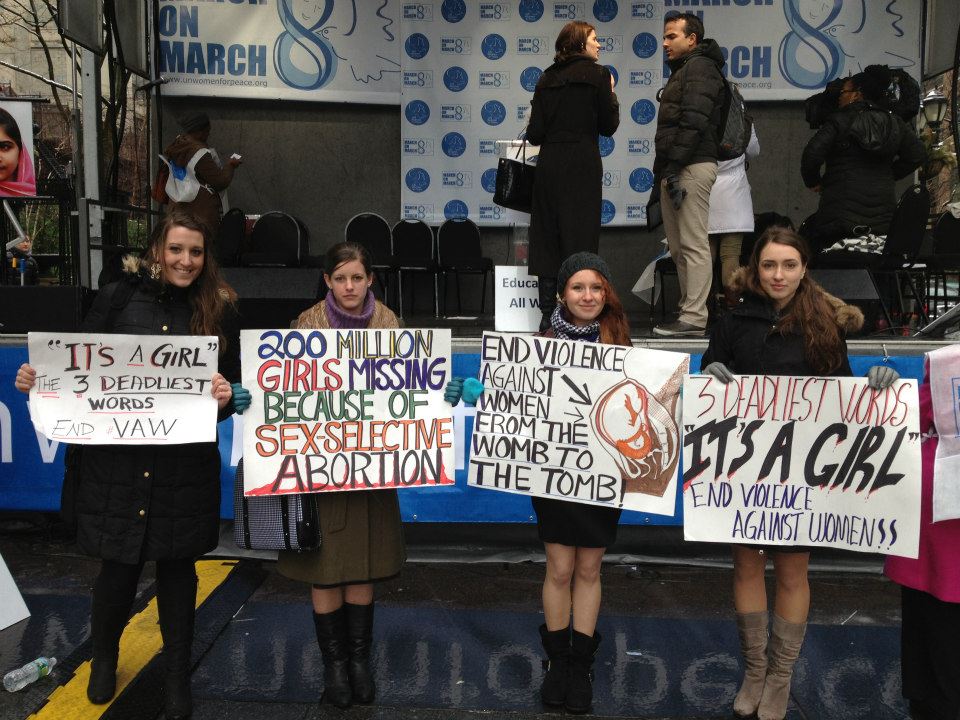 ---
CLC Youth on National Television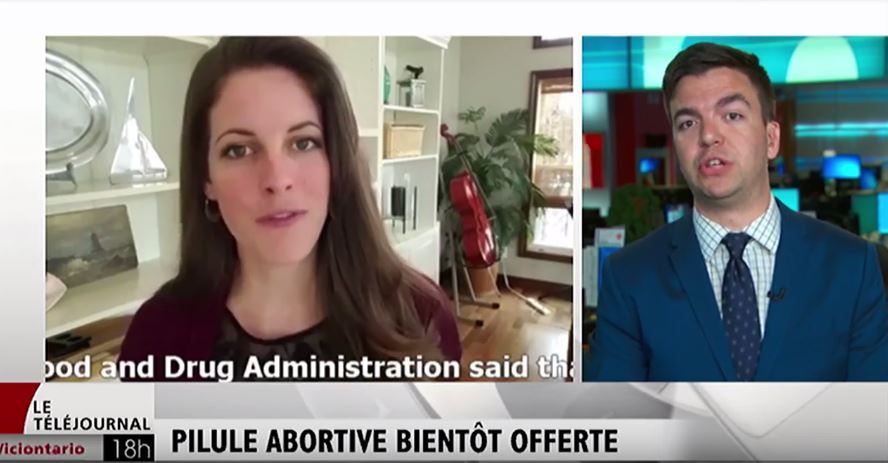 To request an interview with CLC Youth, please e-mail us at [email protected] or call the office at 416-204-9749. CLC Youth does interviews regularly on all life issues. To see interviews CLC Youth has done on Global TV, CBC, CTV, CHCH, MTV and more, check out our YouTube channel here.

For a list of our most recent press releases, please click here.
---
CLC Youth Blog
Do you like to be entertained? Do you like to be kept up-to-date on issues other than the latest Johnny Depp movie? If so, check out our CLC Youth blog by clicking here. If you are interested in writing a blog post for CLC Youth, please e-mail your thoughts to [email protected]! We enjoy knowing what's on YOUR mind and your perspective on life and family issues. Personal stories also inspire and encourage people to become more active in the movement, so don't be shy! E-mail us today!

---
Did you know that at least $50 million a year of our hard-earned tax-dollars is spent on abortions in Ontario? CLC Youth holds the position that government-funded abortions are a blatant abuse of tax dollars, are severely unjust, and that these funds can and MUST be directed away from the killing of our preborn children. This is an issue that should be held close to the hearts of young people in particular. We did not have a choice to stand-up against the Morgentaler decision, but we DO have a choice now. Let's use it.
Click here to read how you can get involved.