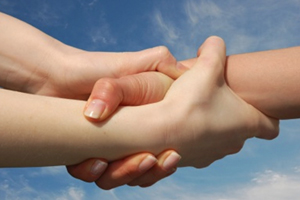 If you experience unwanted same-sex attraction, or even if you are actively involved in a gay lifestyle, you need not be alone in your struggle. Do not believe that you are beyond the reach of God's love. The Father's love is available to you, but for the asking.
Jesus is the true lover of your soul. He is able to bring fulfillment into your life unlike anybody else.
If you would like help in overcoming, or learning to live chastely with, unwanted same-sex attraction, we invite you to contact the following organizations.
Helpful resources are also listed below.
1. Courage
A Roman Catholic ministry that helps same-sex attracted men and women live chaste, holy and fulfilled lives, in accordance with the official teaching of the Catholic Church. They do not focus on recovering one's heterosexual potential, but rather on learning to overcome the temptation to sin by giving over one's life to Jesus Christ and by building healthy fellowship with others who share in similar struggles. A Courage chapter does exist in Toronto and is worth the drive for those who live outside the GTA. For areas without a chapter, Courage's head office in New York does provide assistance to same-sex attracted persons and their loved ones via email and phone. Another option is to attend one of Courage's annual conferences. Their website also offers excellent resources including DVD's and articles.
Web: www.couragerc.net
Tel: (212) 268-1010
Email: [email protected]
2. Living Hope Ministries - online support network
A Christian organization that offers a support via online forums and other means to persons with unwanted same-sex attraction.
Web: www.livehope.org
Email: Form Submission Here
3. Stephen Bennet Ministries – an online support network
Stephen Bennet used to live an exclusively homosexual lifestyle for 11 years, had more than 100 male sexual partners durign that time, and now operates a Christian ministry reaching out to the homosexual man and woman and providing support for their loved ones. Today, his ministry is mostly online through a support, chat-type network.
Web: https://www.sbmworldwide.com/tools/lp/sbm
4. Thomas Aquinas Psychological Clinic (Skype counselling available)
The Skype counselling option available at this clinic is a great help to Canadian parents who live too far from a NARTH-licensed pyschologist. The Thomas Aquinas Psychological Clinic helps children and adults who struggle with unwanted same-sex attraction or gender identity disorder. Dr. Joseph Nicolosi, the former president of NARTH, runs the Thomas Aquinas Psychological Clinic in California which specializes in reparative therapy for unwanted same-sex attraction. Contact Dr. Nicolosi.
Tel: 1-818-789-6944
Email: Email Here
5. The National Association for Research & Therapy of Homosexuality (NARTH)
NARTH is a professional, association of therapists who assist men and women with unwanted same-sex attraction. It is not religious, but rather, offers therapy and research based on science. Their website is a tremendous resource of information to learn about the causes of homosexuality, related issues and the latest clinical research. NARTH also provides an international referral service of licensed therapists offering sexual reorientation treatment in the United States, Canada, Europe, and Australia.
Web: www.narth.com
Tel: 1-888-364-4744
Email: [email protected]
6. Theology of the Body (for Catholics)
This book was written by the late Pope John Paul II. Although it is not about homosexuality, some people who struggle with same-sex attraction have described it as a source of inspiration in helping them to remain chaste. JPII unpacks the meaning of the human body, sex and sexuality in the light of Scripture. The book is actually compiled from 129 homilies given by JPII during his weekly Wednesday audiences, beginning in 1979. It can be purchased at most Catholic bookstores, online at Amazon or Chapters, for about $25. This work is very dense and requires serious concentration on the part of the reader. You might also be able to sign it out for free at your public library. For those who do not have the time nor aptitude for dense philosophy, beginner resources do exist including those by Christopher West, the premiere expert on JPII's revolutionary work.