On November 30, 2011, Ontario's Premier Dalton McGuinty announced a new bill that would give the force of law to his controversial gay Equity policy and sex ed ideology, in direct violation of parental rights. The amendments to the Education Act would seem to govern all schools, including private religious schools. Under the guise of "eliminating bullying" it attempts to sneakily enshrine, in law, McGuinty's radical sexual revolution agenda, imposing it even upon Catholic schools.
On December 6, Campaign Life Catholic, a division of Campaign Life Coalition, participated in a press conference opposing the sexual agenda in this bill. A flood of media coverage resulted, a sampling of which is included below.
1. CTV 6:00 o'clock news (Dec 6)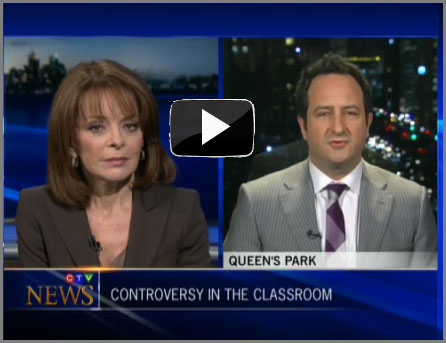 2. CBC Radio, The Current with Anna Maria Tremonte (Dec 15)
Note: the volume is low, so you may have to turn up your speakers to maximum.
3. Toronto Star, 'Anti-bullying bill a front for 'sex education' agenda, group says' (Dec 6)
Read it here.
4. Toronto Sun, 'Anti-bullying bill hijacked by special interests' (Dec 6)
Read it here.
5. Ottawa Sun, 'Family value advocates rip McGuinty' (Dec 6)
Read it here.
6. National Post, 'Anti-Bullying Bill Subverts Catholic Curriculum' (Dec 14)
Read it here.
7. Ottawa Citizen, 'The Lessons of Bullying' (Dec 11)
Read it here.
8. OMNI TV - PORTUGUESE edition (Dec 7)
Note: This will take you to the OMNI News website. Then click on "Portuguese News Edition - December 7, 2011". . The segment starts at 2 min 58 secs and runs till 5 min 04 secs.