No homosexual 'pride' flags at our schools
---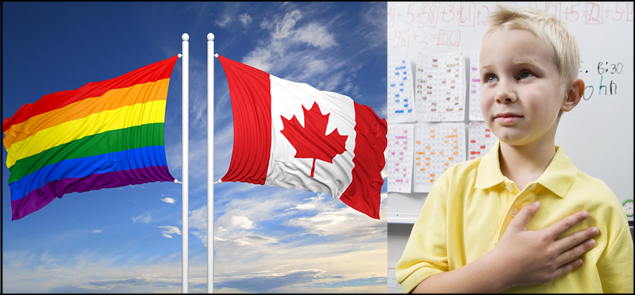 Dear School Board Trustees,
I was alarmed that public school boards across Canada are increasingly forcing or "encouraging" their schools to fly the controversial, gay pride flag during the month of June, without regard for the religious beliefs of every student, or their families.
It has been reported that further indoctrination often takes place, wherein the school requires the entire student body to come outside and gather around the gay pride flag, to celebrate homosexuality, transgenderism, and other sexual identities pushed by the LGBT lobby.
The homosexual pride flag is a political symbol that divides our communities and creates conflict. It therefore has no place on the school grounds.
The only flag that should be flown at our schools, is the Canadian flag. It is a non-controversial symbol of national unity and shared pride for our great country.
Although school officials justify flying this controversial symbol as a way to promote "inclusion", it does the exact opposite for many children and their families. The homosexual pride flag makes many children of Christian, Muslim, Sikh, Jewish and other faith or cultural beliefs, feel uncomfortable and unsafe at school.
There have been reports that children who, for religious reasons, object to standing in honour of the homosexual flag, often get bullied by other students, and made a spectacle of by pro-LGBT teachers and staff.
I ask you to please take a stand against flying the controversial gay pride flag on school property, and to institute a policy whereby the only flag permitted to be flown, is the Canadian flag.
Sincerely,
[Your name]
Signatures
Thus far 9894 signatories
Page 5 of 660
Oct 4, 2022 - 09:34pm
Phrancophone school in airdrie has this flag in the school. They did not remove it after I asked that. Some students are considering themselves homosexual and many do self harms!
Anonymous
Peterborough, ON
Oct 3, 2022 - 10:49am
Young kids should not be subjected to this nonsense.
Oct 2, 2022 - 11:29pm
This is not appropriate to be taught in schools. Stick to reading, writing and arithmatic, No wonder our kids are so screwed up nowadays with this garbage being taught as "normal". It in not normal. Look at the Pandora's box it's opened with that transvestite teacher in Ontario wearing the disgusting fake breasts. Perverts!
Cindy J.
New Liskeard, ON
Oct 1, 2022 - 04:30pm
I'm not against them but I do oppose their agenda to `take over' our country. like the rest have zero rights.
Sep 28, 2022 - 05:27pm
We are Christian's and do not celebrate pride, please let's just focus on education that benefit everyone and do not force pride on people. It seems like they lgbt people have more power in our education and that is not right. No pride flag it's disrespectful to others
Anonymous
Prince George, 0
Sep 26, 2022 - 04:51pm
No forcing anyone elses idiology on our children
Sep 12, 2022 - 01:03pm
There is no safe place to send my child which doesn't post propaganda such as the "pride" flag, or "every child matters" banners, I want to see a Canada where it is illegal for public schools paid for by my tax dollars to promote politically motivated messages or display these sorts of items. School should be for basics.
Anonymous
Peterborough, ON
Sep 5, 2022 - 09:35pm