No homosexual 'pride' flags at our schools
---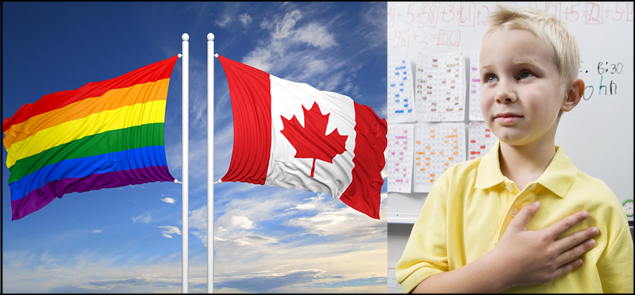 Dear School Board Trustees,
I was alarmed that public school boards across Canada are increasingly forcing or "encouraging" their schools to fly the controversial, gay pride flag during the month of June, without regard for the religious beliefs of every student, or their families.
It has been reported that further indoctrination often takes place, wherein the school requires the entire student body to come outside and gather around the gay pride flag, to celebrate homosexuality, transgenderism, and other sexual identities pushed by the LGBT lobby.
The homosexual pride flag is a political symbol that divides our communities and creates conflict. It therefore has no place on the school grounds.
The only flag that should be flown at our schools, is the Canadian flag. It is a non-controversial symbol of national unity and shared pride for our great country.
Although school officials justify flying this controversial symbol as a way to promote "inclusion", it does the exact opposite for many children and their families. The homosexual pride flag makes many children of Christian, Muslim, Sikh, Jewish and other faith or cultural beliefs, feel uncomfortable and unsafe at school.
There have been reports that children who, for religious reasons, object to standing in honour of the homosexual flag, often get bullied by other students, and made a spectacle of by pro-LGBT teachers and staff.
I ask you to please take a stand against flying the controversial gay pride flag on school property, and to institute a policy whereby the only flag permitted to be flown, is the Canadian flag.
Sincerely,
[Your name]
Signatures
Thus far 10102 signatories
Page 640 of 674
Anonymous
Mississauga, ON
Feb 26, 2019 - 10:31am
Why no other flags can fly. This is not fair. Canadian flag allowed only. Otherwise this is political indoctrination and creates more division amongst people.Pride flag is not a symbol of inclusion but a symbol of division, anyone who disagrees with them
Feb 26, 2019 - 10:31am
It's high time for the sane, silent majority to start pushing back against these fringe ideologues who seem hell-bent on corrupting or destroying the founding values that have made this great nation of Canada!
Feb 26, 2019 - 10:31am
Public institutions are supposed to be non-partisan. Supporting the LGQBT Lobby is a political act. Please allow true "inclusion" by not imposing one ideology as supreme over other beliefs.
Feb 26, 2019 - 10:30am
LGBT community hands off our children!!! People stared leaving Canada for good because of this crap. The only thing that schools should be responsible for is to provide high quality of formal education.
Feb 26, 2019 - 10:29am
Is there a flag for non gay people, transgender etc? Teach respect for one another but the flag it is too much.
Eileen G.
Lloydminster, AB
Feb 26, 2019 - 10:29am
Kristan J.
Bracebridge, ON
Feb 26, 2019 - 10:29am