Defend Catholic Student Arrested After Opposing Males in Female Washrooms
---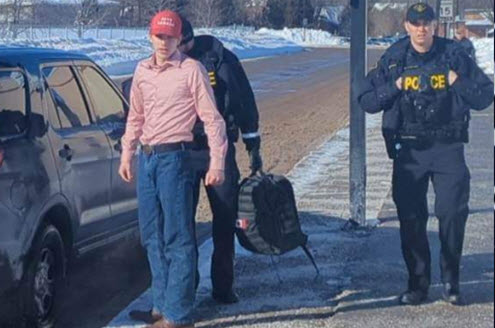 TO: Renfrew County Catholic District School Board (RCCDSB) Trustees
I am deeply concerned that St. Joseph's Catholic School in Renfrew, ON had a 16-year-old student arrested by police after expressing his religious beliefs.
After Grade 11 student Josh Alexander stated in class his Christian belief that there only two genders, that people are born either male or female, and that male students should not be allowed in female washrooms, he was suspended from class.
His suspension is wrong, and represents an egregious act of anti-religious discrimination that is causing Catholics across the country to question this school board's faithfulness to Catholic teaching. This is NOT how a "Catholic" school should behave.
This disgraceful, anti-Christian discrimination against the Christian teenager only got worse. When Josh Alexander returned to class on February 6, as an act of civil disobedience to protest an unjust dictate, the school had the teenager arrested and charged for trespassing.
I demand the following: 1. An immediate public apology to Josh Alexander; 2. His school attendance privileges restored; 3. A policy change to bar biological males from accessing girls' washrooms throughout the RCCDSB.
Sincerely,
[ The Undersigned ]
---
For a copy of this petition that you can print and sign on paper, click here.
Signatures
Thus far 5305 signatories
Page 1 of 354
Minister Richard Henry I.
Toronto , ON
Mar 27, 2023 - 03:19pm
The man is protected under the Bible. Ezekiel 33, the top law in Canada is the Bible. They swore an oath to the Queen/King he is the defender of the faith. They commit Treason by going against the king. KHV 1611.
[email protected]
Anonymous
Mississauga, ON
Mar 26, 2023 - 09:57pm
This is ridiculous. I thought Catholic schools followed the teachings of Jesus? At what point will common sense prevail? Shame on the Police I thought I read on their cars "To Serve & Protect" should read to " Hassle & Collect" Go figure? Way to go Josh for standing up for what is right! You are the future of Canada!
Mar 22, 2023 - 11:45pm
I agree with this student. Things have been taken way too far at schools. What has happened to the rights of the students who have been raised either male or female? Why should they be forced to feel uncomfortable to go to the washroom. Make three bathrooms so everyone has the right to go to the washroom comfortably.
Mar 22, 2023 - 08:41pm
Na
Mar 20, 2023 - 12:36pm
Freedom of religion, conscience and speech are defended by our constitution. This lad should not be punished for speaking up.