Trustee Teri Westerby Must Resign Over Violent Anti-Christian meme
---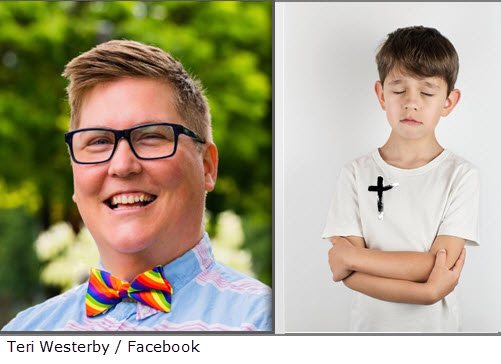 To: Trustees of the Chilliwack School District #33
We, the undersigned, in light of the hateful and bigoted Facebook post by Chilliwack School District (SD33) Trustee Teri Westerby, which shows an image of terrified screaming, running, and stumbling Christians about to be crushed to death by an LGBT-emblazoned steamroller driven by a cheering mob, and which vilifies Christian values along with the traditional family, formally demand the immediate resignation of Teri Westerby, who, by this malicious, and inflammatory post, has marginalized, stigmatized, and possibly endangered a sizable group of the very students whom SD33 is responsible for protecting and supporting.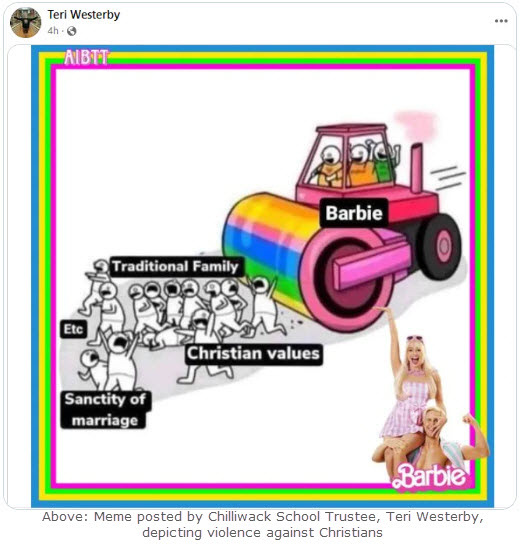 Her posting of a hateful and violent anti-Christian meme is completely unacceptable and can only be resolved by her resignation.
The glaring contradiction between Westerby's fiduciary responsibility as an SD33 trustee to ensure the welfare and safety of SD33 students, on the one hand, and the appalling, gleeful contempt that she levelled against a large segment of that same student demographic, make Teri Westerby manifestly unfit to continue serving as a trustee.
Westerby's further tenure in that capacity would be irreconcilable with both fundamental justice and good governance at SD33.
We therefore reiterate our demand that Teri Westerby resign immediately from the position of trustee with the Chilliwack School District.
Signatures
Thus far 3216 signatories
Page 1 of 215
Anonymous
Pitt Meadows , BC
Sep 22, 2023 - 12:33pm
Sep 19, 2023 - 10:27am
Remove.. Remove
Sep 18, 2023 - 12:09pm
HAte, from either side, is still hate. Inexcusable.
Sep 14, 2023 - 09:22pm
She needs to be sent to remediation classes and asked to memorize the Canadian Charter of righter and Freedoms; she clearly has no clue!
Sep 14, 2023 - 02:24pm
Someone with this attitude towards a loving and peaceful society should not be in a position as trustee of anything let alone a school with young children.
Anonymous
Kincardine , ON
Sep 14, 2023 - 01:44pm
Religious rights are human rights too.
Sep 13, 2023 - 08:57pm
This is not acceptable