After months of battling for amendments to protect the Catholic faith, the Toronto Catholic School Board's EIE vote on August 31, 2011 started out by giving parents and ratepayers who attended the meeting, an initial taste of victory with the passage of the first, key amendment.

However, the sense of victory transformed into outrage as parents/ratepayers watched the next 4 amendments get sabotaged by "staff recommendations" and political tricks. How trustees voted is listed towards the bottom of this email.
Pro-Catholicism delegates knock it out of the park
The evening started out buoyant after 7 amazing delegations eloquently endorsed the pro-Catholic amendments of trustees Del Grande and Kennedy.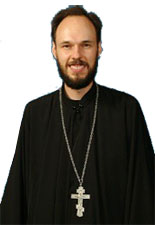 One non-Catholic priest, Father Korz, representing the Pan-Orthodox Association of Greater Hamilton and the Eastern Orthodox Clergy Fellowship of Greater Toronto gave a rousing appeal to trustees on why they should support the Del Grande/Kennedy amendments. He warned the Board:

"My friends, if you do not pass these amendments guaranteeing Catholic Christian uniqueness in your schools, why on earth should the province provide you with funding for the separate school system?"
To view a video of Father Korz' delegate speech, click here. (We apologize for the video's poor quality.)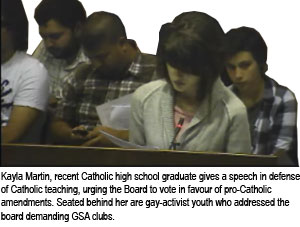 Kayla Martin, a recent graduate from St. Joseph's Morrow Park high school in Toronto, also warned the Board:

"Introducing the EIE policy will be a slow, beginning process of integration. Little by little we will give up our values and morals as Catholics … The act of homosexuality will become normalized. … and it will be inferred that they can be a Catholic and also practice homosexuality"

"To include the EIE policy in our schools will not be a direct attack on a teacher, or a student or a school. This would be a direct attack on an entire religion…. Will we fight like St. Edith Stein, Francis Xavier, or will we play a hand in the destruction of our Church because society would like us to change our beliefs to fit their needs?"
Victory: Denominational rights win out over 'human rights'
Then spirits really soared after trustees unanimously passed the first amendment – a key one, which modified the EIE policy to state that: "Where there is an apparent conflict between denominational rights and other rights, the board will favour the protection of the denominational rights". This was the only staff recommendation which actually aligned with the Del Grande/Kennedy language.

This amendment is crucial because it states much more clearly that denominational rights (i.e. Catholic rights) trump other rights (i.e. human rights claims). The fact that this amendment is so important was evidenced by national newspapers the next day, which spent their time complaining that the TCDSB had voted to place the constitutional rights of Ontario's Catholic schools above human/gay rights. The CBC also joined in the national media's lamentation over this amendment.

It is telling that the mainstream media was surprised that the TCDSB did not voluntarily subject its constitutional rights to the supposed superiority of "gay rights". The media must have understood, as we did, that was in fact the objective of Dalton McGuinty's EIE policy.

Campaign Life Catholics would like to congratulate all the concerned Catholic and non-Catholic ratepayers who succeeded in winning this amendment victory!

After this initial vote however, things went down-hill for the preservation of Catholicism in our schools.
Board sabotages the other Del Grande/Kennedy amendments
Catholic ratepayers were shocked to witness board administration and trustees sabotage the promised vote by replacing the Del Grande/Kennedy amendments, with their own neutered, useless wording for the remaining four amendments.

Parents and ratepayers waited (4) months for a vote that had been promised on the Del Grande / Kennedy amendments. Parents are now reporting to us that they felt the vote was rigged for sabotage, and that trustees did not respect the will of the electorate.
Results of the next 5 votes
(note: one amendment was split into 2 votes)

1. Trustees voted against an amendment that would have prevented the establishment of GSA-type clubs in Toronto's Catholic schools. Such clubs would predictably result in gay-activist students undermining Catholic doctrine on marriage and sexuality.
| | |
| --- | --- |
| Who voted against: (6) | Jakovcic, Poplawski, Andrachuck, Davis, Rizzo, Piccininni |
| Who voted in favour: (5) | Del Grande, Kennedy, Enverga, Bottoni, Crawford |
2. Trustees voted against an amendment that would have enshrined the right of individuals to express Catholic moral principles regarding sexuality and marriage, without fear of recrimination.
| | |
| --- | --- |
| Who voted against: (8) | Andrachuck, Davis, Jakovcic, Poplawski, Rizzo, Piccininni, Crawford, Bottoni |
| Who voted in favour: (3) | Del Grande, Kennedy, Enverga |
3. Trustees voted against an amendment that would have clarified to everyone reading the EIE policy, that if gay activists demand to see their lifestyle reflected in the curriculum, that such demands must be rejected.
| | |
| --- | --- |
| Who voted against: (7) | Jakovcic, Piccininni, Bottoni, Andrachuck, Davis, Crawford, Rizzo |
| Who voted in favour: (4) | Del Grande, Kennedy, Enverga, Poplawski |
4. Trustees voted against an amendment that would have made it clear to people reading the policy, that the latest edition of Catechism of the Catholic Church should be referenced as an authoritative statement of the Church's faith and Catholic doctrine.
| | |
| --- | --- |
| Who voted against: (7) | Jakovcic, Piccininni, Bottoni, Andrachuck, Poplawski, Crawford, Rizzo |
| Who voted in favour: (4) | Del Grande, Kennedy, Enverga, Davis |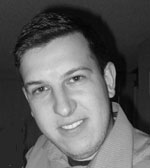 5. Trustees blocked an amendment that would have prohibited "partnerships"with groups who oppose or contradict Catholic moral teaching.
Trustee Piccininni made a pre-emptive motion to call for a vote on the neutered staff recommendation instead of the Del Grande/Kennedy language. Trustee Joann Davis also made a speech saying she opposed Del Grande's amendment.
Del Grande then made a counter-motion to try saving his language, but sensing it was going to lose, he accompanied it with an impassioned plea:
"I am not sure what it would take to get this Board of trustees to listen to what the parents and Catholic ratepayers are saying!" Del Grande added, "So, we're gonna walk away from here tonight, we're going to again, not listen to our Catholic community -- and the fight will not end…. So trustees, I implore you – give the ratepayers what they're asking for."
The audience broke into thundering applause after Del Grande's plea. Out of sheer frustration, ratepayers in the audience began calling out for "democracy" and criticizing the Board of trustees for failing to protect the Catholic faith.
Ultimately, Del Grande tried to salvage this amendment by deferred his wording back to Staff with a plea that they work with him to develop language that would be acceptable to the trustees while still maintaining the spirit of his amendment. That final amendment will be brought back again for a vote in the future.
Ratepayers disgusted by dirty political tricks
One parent phoned Campaign Life the next day to ask if we could recommend a good private school for his two children.

Approximately 100 ratepayers walked out of the boardroom in disgust after witnessing the sabotage of trustee Del Grande's final amendment. As parents were shouting out in protest and others walked out in protest, board Chair Ann Andrachuk, called for a "recess" at which point the live webcast camera was turned off. Unfortunately the protest scene is not on the public record, although it was reported by several newspapers and eyewitness accounts.
How the pro-Catholic amendments were sabotaged
On the Monday just before the vote, unelected Administration staff pre-empted the Del Grande/Kennedy amendments by proposing their own, alternate, neutered amendments.

Then, other trustees beat Del Grande to the floor, putting forward motions to pass the neutered "Staff recommendation" language. This effectively destroyed Del Grande's ability to get a fair up-or-down vote on his and Kennedy's pro-Catholic amendments. National newspapers like the Globe & Mail and Toronto Star, also described the staff recommendations as "watered down" and "vague".

Therefore, with the exception of the one important amendment on "denominational rights", the watered-down, vague 'staff recommendations' were passed. The board may have hoped that this pre-emption strategy would provide cover to the trustees who opposed the Del Grande/Kennedy amendments. However, it did not provide cover – ratepayers were shown that the will of the electorate was not held in high regard.
Keep fighting to protect children & parental rights
Parents and ratepayers must keep up the fight. The faith and morals of many children is at stake, and that is why you must not retreat. Some important amendments have been won, counting one or two victories at the previous June 16 meeting. Pressure can continue to be brought to bear on trustees through the policy amendment process.

In addition, the Ontario Bishops' recommendation for gay, anti-bullying clubs in Catholic schools will be coming out this school year, and parents will need to stay engaged. The student-lead, gay, anti-bullying clubs idea came about after intense pressure from Dalton McGuinty's government and gay-friendly media.

Finally, the board's controversial "Religious Accomodation" policy will be receiving public consultation.


In Christ,

Suresh Dominic
Campaign Life Catholics
(A Division of Campaign Life Coalition)