Two candidates in Ontario election were interns at Canada's top pro-life organization
May 26, 2022 @ 3:27pm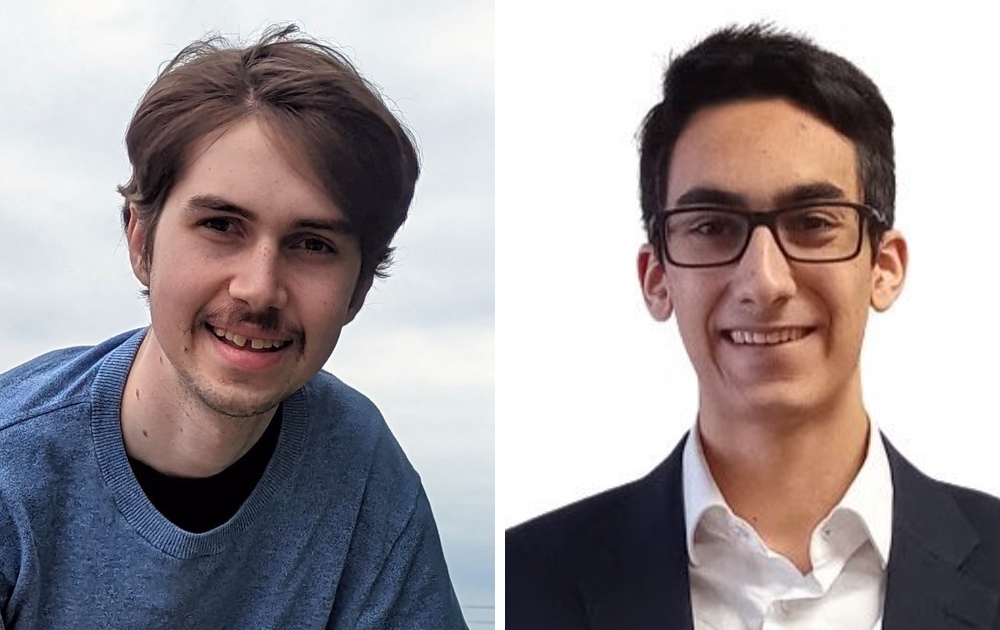 Gregory Tomchyshyn | Peter Naus
May 26, 2022 (Campaign Life Coalition) – Two young men who trained as interns at Canada's top pro-life organization are running as candidates in Ontario's upcoming provincial election. Both of them are proudly pro-life and are bringing their pro-life convictions into their politics.
Gregory Tomchyshyn is a 21-year-old running in the Mississauga East-Cooksville riding to become a Member of Provincial Parliament (MPP) in the newly formed Ontario Party. He interned at Campaign Life Coalition (CLC) in the summers of 2018 and 2019 where he was trained in pro-life apologetics and engaged in pro-life political action.
Tomchyshyn told CLC in an interview that his time with the organization taught him "a lot about the wider world of politics and all the different issues." He said that his formation helped him to see that the issues of respect for life, male-female marriage, and parental rights are all "interconnected."
"They helped inform me that this is a much bigger battlefield we're fighting on right now than what we realize."
It was because of Tomchyshyn's pro-life convictions that he decided to enter into politics, running under the banner of a party that supports his convictions.
"I'm deeply concerned with what is going on in this province and the way that the future is going right now and the fact that the culture of death has seemed to be getting more wind than the culture of life," he said.
"I saw how there's not really much being done [on the pro-life issue]. There's not a lot of pro-lifers running in politics, especially in most major parties, so I decided to run when I saw the Ontario party come along."
Tomchyshyn chose to run under the banner of the Ontario party because of what he called its "strong pro-life platform." The Ontario Party, led by former Member of Parliament Derek Sloan, affirms in its constitution the "inalienable" right to life, adding that it holds that the "right to life is the most important human right, from which all other rights are derived."
"If you don't have the right to life," commented Tomchyshyn, "my viewpoint is, well, what's the point of the other rights if you can't live? What's the point of having all the other rights and freedoms if you can't have the first, fundamental one?"
Peter Naus, 19, also interned for Campaign Life Coalition in 2018 and 2019. He told CLC that he is running in the upcoming election to bring "integrity, hope, and freedom back to Ontarians and the constituents of Scarborough Southwest" under the banner of the New Blue Party.
Naus said that his time at CLC was one of his "most valuable life experiences."
"I am extremely grateful for the internship at Campaign Life Coalition which gave me a comprehensive perspective on the dignity of human life from conception to natural death. Human rights should be protected for all human beings, especially the most vulnerable," he said.
Naus is proud to run for office under the banner of a political party that agrees with his pro-life views. He called his pro-life and pro-family values "an essential part of [his] political career." Naus' championing of what he calls the "scientific definition that every human life begins at conception" corresponds directly with one of the New Blue Party's founding principles which states that it recognizes the "inherent value and dignity of human life from conception to natural death." The party was founded in 2020 by Jim and Belinda Karahalios who are both champions of life and family.
Naus went on to explain that he was never particularly interested in politics until he participated in the CLC internship.
"The internship sparked my interest in getting involved in the political process. I am not a politician by nature, I don't like politics. I really like science and math. One of my favourite quotes from [CLC president emeritus] Jim Hughes which is a spin-off of Plato's Republic, was that if you don't get involved in politics, politics is going to get involved with you."
What especially inspired Naus to enter politics was the "attacks against human rights" that citizens experienced over the government's response to the coronavirus. "I decided to run because I was impeded by Ford's lockdowns from doing what I love to do, and I could not stand idle while the freedoms of Ontarians were under attack," he said. Naus referred to the harms caused by Ontario Premier Doug Ford's emergency measures, including vaccine mandates and passports, as the "most important provincial issue in this election." He said that Ontarians "cannot afford the economic, psychological and systematic costs of four more years of lockdowns."
The Ontario election is on June 2. Polls indicate that Ford is poised to win a majority. This comes despite him having betrayed Ontarians during the recent pandemic by imposing draconian unscientific measures, including lockdowns and vaccine mandates. The harms caused by these measures, including business closures, life-saving surgeries put off where waiting patients died, and children losing education, are still being calculated.
Ford also betrayed social conservatives by promising to repeal the Liberal's sex-ed curriculum and then flip-flopping. He never fulfilled his leadership promise that he would introduce conscience rights legislation to protect doctors from being coerced by the College of Physicians & Surgeons to participate in, or give referrals for, euthanasia and abortion. He also abandoned his promise to move on a parental consent law for minor children seeking abortion. In the wake of the U.S. Supreme Court's leaked document on Roe v. Wade, Ford promised to maintain abortion access in the province, stating that "we're keeping it exactly the same." CLC has issued a detailed voters' guide for the upcoming election to aid in electing pro-life and pro-family MPPs.
CLC's Youth Coordinator, Josie Luetke, who directs the intern program, spoke proudly of Naus and Tomchyshyn saying, "I think it's awesome that in such a short time span, they've gone from learning about politics through our program and doing a lot of behind-the-scenes stuff like data entry and meeting with politicians, to becoming candidates themselves."
"They took it upon themselves to run for office, which is always a huge sacrifice and takes a lot of courage and so I think it's fabulous, I think they're setting a good example for a lot of other pro-life young people," she said.
Despite polls favouring Ford, Luetke pointed out that victory in this race for the pro-life candidates may not mean winning the election, but simply running the race to bring about change.
"Realistically speaking, the chance of being elected when you're part of any new party is low, but that's the only way we do achieve change anyway. And I think more so than even just running for a seat, its running to change the conversation and to bring life issues to the forefront," she said.
Editor's note: Pete Baklinski contributed to this report
Comments