Trudeau Liberals refuse to condemn infanticide
November 17, 2022 @ 4:06pm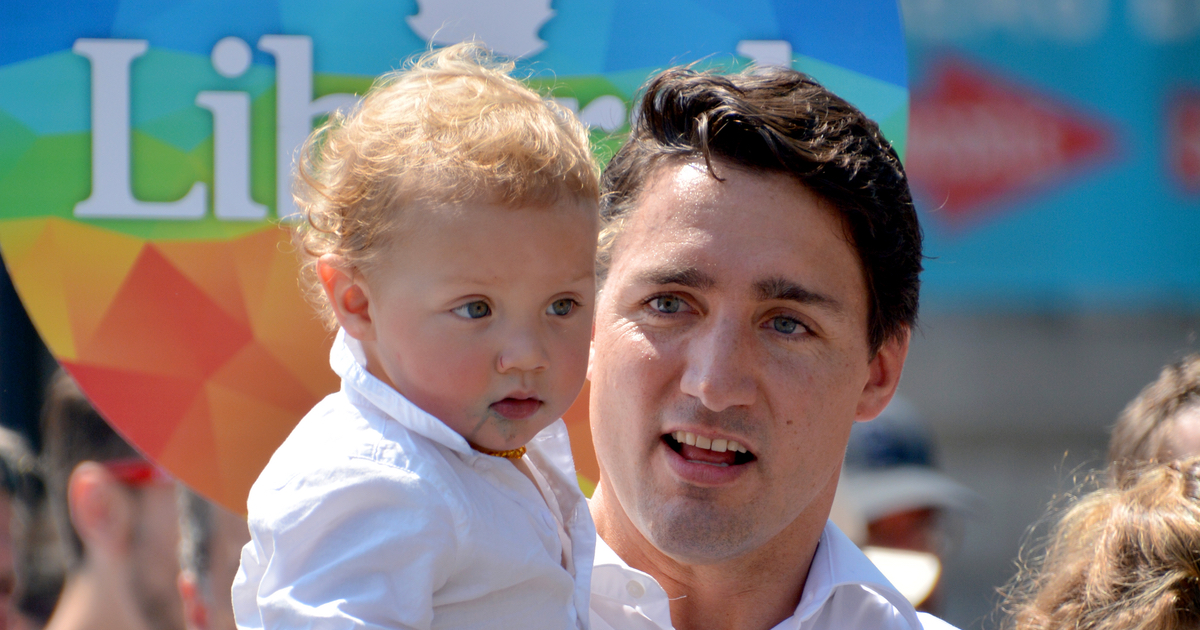 Justin Trudeau holds a baby during the Montreal 'pride' parade, August 16, 2015. Photo credit: Shutterstock.com
November 17, 2022 (Campaign Life Coalition) – On Wednesday, Saskatchewan Conservative MP Rosemarie Falk (Battlefords—Lloydminster) put forward a motion in a committee dealing with the "status of persons with disabilities" that the committee reject the Quebec College of Physicians' recent call for euthanasia of sick and deformed infants.
The pro-life MP called Dr. Louis Roy's October 7 Parliamentary Committee proposal — that infants needing additional support, love, and care should be exterminated — "unethical."
Falk's motion should have been uncontroversial. It stated that the Standing Committee on Human Resources, Skills and Social Development and the Status of Persons with Disabilities (HUMA), of which Falk is a member, "report to the House that it is of the opinion, that it rejects the Quebec College of physicians' assertion on October 7, 2022, that the expansion of medical assistance in dying is appropriate for infants up to the age of one who are born with severe and grave syndromes."
During the Nov. 16 committee meeting, Falk said she hoped her motion would be supported "fully" by all eleven committee members, stating that her motion reinforces the "important message" that "all Canadians, no matter their ability, should be able to fully participate in society and that our collective goal is to remove existing barriers." She added that her motion "reaffirms their value, that they are important to society and it helps with the work we are doing here today."
Shockingly, seven MPs from the Liberal, NDP, and Bloc Québécois parties voted down the motion. It was supported by only four Conservative MPs.
Voting against were:
Wayne Long (

Saint John—Rothesay)

, Liberal

Soraya Martinez Ferrada (

Hochelaga

), Liberal

Chad Collins (

Hamilton East—Stoney Creek

), Liberal

Michael Coteau (

Don Valley East

), Liberal

Tony Van Bynen (

Newmarket—Aurora

), Liberal

Louise Chabot (

Thérèse-De Blainville

), Bloc Québécois

Bonita Zarrillo (

Port Moody—Coquitlam

), NDP
Voting in favour were:
Tracey Gray (

Kelowna—Lake Country

), Conservative

Scott Aitchison (

Parry Sound—Muskoka

), Conservative

Rosemarie Falk (

Battlefords—Lloydminster

), Conservative

Michelle Ferreri (

Peterborough—Kawartha

), Conservative
MP Falk deserves the highest praise for bringing forward this motion. And, the four Conservative MPs who voted in favour of it are also worthy of praise.
It's almost unbelievable that some of our elected officials, when given the opportunity to condemn infanticide, the killing of already-born infants who completely depend on adults for their well-being, chose to abandon these babies. What's even more unbelievable is that Ontario Liberal MP Chad Collins (Hamilton East—Stoney Creek) called the motion a "waste of time" when it came to his turn to vote.
In reality, there is no better use of time for our elected officials than advocating for, defending, and protecting the most vulnerable among us. It's been said that the true measure of any society can be found in how it treats its most vulnerable members. On this front, Canada has not only failed the test, but has completely flunked out.
This callous disregard for vulnerable human life outside the womb at its earliest stages is certainly shocking. But, it's not unexpected from a culture that supports the killing of babies inside the womb. The reality is that there is no moral difference between a born baby and an unborn baby – both are fully members of the human family and both deserve love and protection along with human rights. When those in a nation defend killing children in the womb for various reasons, it must necessarily follow that they will defend killing children outside the womb for various reasons.
And, to make a compelling case, the experts will begin with the "hard cases" of born children with incurable illnesses and diseases. The slippery slope that began with permitting abortion for "hard cases" in 1969 will end with permitting infanticide for similar reasons five or six decades later.
And, many of our political leaders appear to be fine with that. As pro-life MP Leslyn Lewis pointed out on Twitter: "Why aren't the Liberals, Bloc and NDP condemning this unethical agenda?" Shame on the seven MPs who voted against this motion.
Comments