Enter The Destroyer
March 16, 2017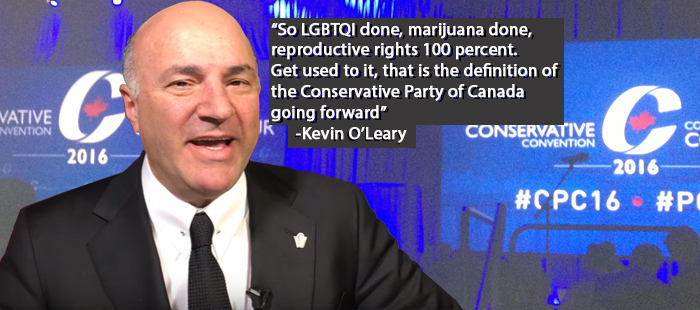 Dear CLC Supporter,
One leadership candidate supports abortion and crudely mocks traditional marriage.
Others want to protect unborn children & uphold family values. Who wins is up to you.
The Conservative Party of Canada (CPC), and indeed our nation, is at a moral crossroads. In my lifetime, we've probably never had a more important Conservative leadership race. Some polls indicate that TV celebrity Kevin O'Leary is leading the field of candidates to succeed Stephen Harper. That makes us profoundly concerned.
O'Leary promised to remake the CPC into a "100 percent" pro-abortion party. While boasting to the media about how socially liberal he is, and to mock those who believe in traditional marriage, he said: "I don't care if you want to marry a goat, I'm for it. I really am".
If he wins, O'Leary will be a disaster. He'll banish social conservatives from the last remaining mainstream party which still makes space for traditionally-principled Canadians. Our political system will be devoured by the culture of death. We can't let O'Leary win.
In Romans 5:20, St. Paul reassures us that "Where sin abounds, grace abounds all the more". Thankfully, this time of unprecedented danger also brings the possibility of unprecedented pro-life and pro-family gains! We've got a once-in-a-lifetime opportunity to install either Pierre Lemieux or Brad Trost as the next CPC Leader. Whoever wins the race will likely become Prime Minister in future. Let's put Lemieux or Trost there.
Both of these men are uncompromising pro-lifers who've pledged to implement modest pro-life legislation. Both stand proudly in support of traditional marriage. Both men have campaigned on protecting parental rights against totalitarian provincial education curricula like that pushed by Ontario, Alberta and Quebec governments. See a side-by-side comparsion of their platforms below.
To become eligible to vote for Lemieux and Trost as your #1 and #2 choices (or vice-versa depending on your preference), please join the party by March 28 by going either to the Lemieux sign-up page here, or the Trost sign-up page here.
If you prefer to mail a cheque, download either a Lemieux membership form or a Trost membership form, complete and sign it. Mail it with a cheque made payable to "Conservative Fund Canada" and send to: CONSERVATIVE PARTY OF CANADA, 1720-130 Albert Street, Ottawa, ON K1P 5G4. In the memo line please write either "Pierre Lemieux Campaign" or "Brad Trost Campaign", so that the respective candidate of your choice receives a portion of the membership fee back to their campaign.
Even if you normally vote for another party or don't vote at all in federal elections, please help us elect a pro-life Conservative leader. We can win this!
Sincerely,
Jeff Gunnarson
Jeff Gunnarson
Vice-President, Campaign Life Coalition

---
---
---
We ask all registered CPC members to vote for either Brad Trost or Pierre Lemieux or as your #1 choice on the ranked ballot. Mark the other candidate as your #2 choice.
Please do not rank any of the other 12 candidates as 1 or 2.

•2004 –CURRENT: MP for Saskatoon-University
•Opposition Critic for Canada-U.S. Relations
•Founder, Conservative Energy Caucus
•B.Sc. in Geophysics, B.A. in Economics(Univ. of Sask)

•2006 –2015: MP for Glengarry-Prescott-Russell




•Ser

ved 20 years in the Canadian Armed Forces
•Attained the senior rank of Lieutenant-Colonel
•Bachelor of Engineering from Royal Military College

•Ban sex-selective abortions

•Pass Unborn Victims of Violence Act

•Federally-funded ad campaign to increase respect for the value of children with Down Syndrome and thus, deter abortion targeting babies

•Federally-funded research and support programs to assist children with down syndrome and their families

•Repeal Bill C-16 on transgenderism/gender identity

•Parental Bill of Rights to protect family authority over the moral education of children

•Repeal Trudeau's anticipated legislation that will criminalize parents who use spanking to discipline

•Ban sex-selective abortions

•End govt censorship on abortion statistics

•Reign in activist-judges and make them accountable to Parliament via term limits

•Law to protect conscience rights of healthcare workers

•Repeal Transgenderism Bill C-16 which poses huge threat to free speech and religious liberty

•Create a federal taskforce, including free speech hero Dr. Jordan Peterson, to review all laws governing speech, and recommend changes where necessary

Trost and Lemieux were the only Leadership candidates who criticized Trudeau's pledge to use $650 million of our Canadian tax dollars to pay for abortions in Africa, and to overthrow laws in countries where it is currently illegal.

If either Lemieux or Trost become Prime Minister, they will cancel this wasteful Liberal spending.