Nunavut Premier Cancels Pro-Life Minister
October 18, 2020
I want to tell you about two courageous northerners and the outrageous anti-Christian, anti-life bullying they are facing even as I write.
Patterk (Patiq) Netser is a Minister for the Nunavut government and an elected MLA for the district of Aivilik. His daughter, Malaiya Lucassie, was elected to serve on Iqaluit City Council, also in Nunavut.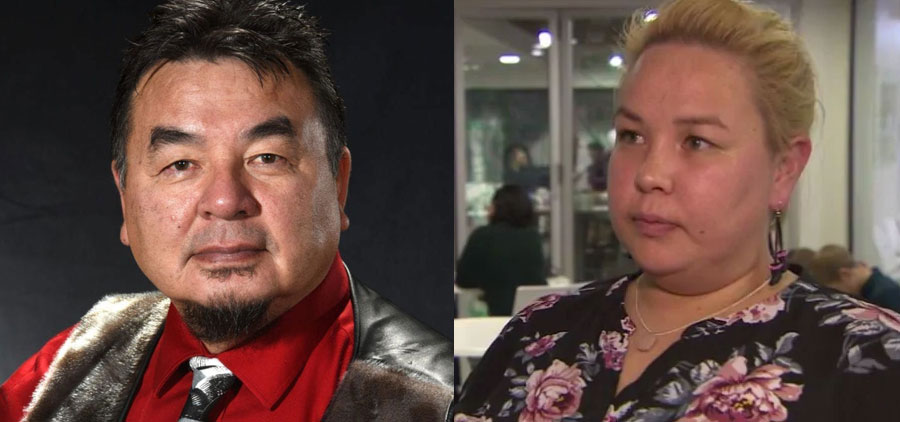 Above: Patiq Netser (left); Malaiya Lucassie (right)
These two public servants do not hide their Christian, pro-life values. They should not have to! But that is exactly what they have been ordered to do by various woke politicians. They are being "cancelled" for simply sharing their hearts on the plight of the unborn.
On October 8th, Mr. Netser posted a 31-word comment on Facebook to raise awareness of the abortion of black preborn babies, an issue ignored by the Black Lives Matters (BLM) organization. His daughter, Ms. Lucassie, added her own supportive comments. You can read the post below: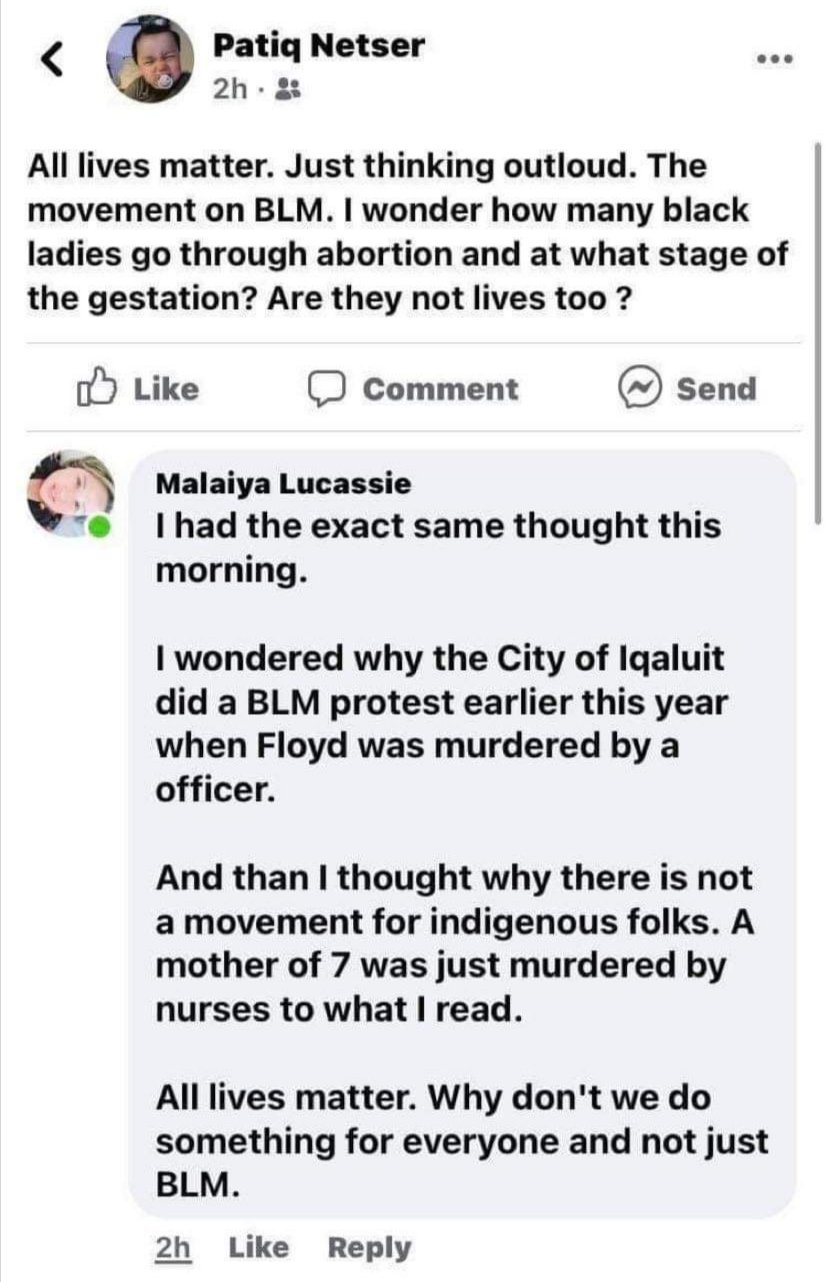 I'm sure you will agree that there is absolutely nothing offensive or derogatory in these comments. In fact, Mr. Netser and his daughter are raising valid points regarding some very real injustices in our world. I believe they are speaking the truth in love.
It is undeniable that the black community has been disproportionately targeted by the abortion industry. According to a recent American study, "black women have been experiencing abortions at a rate nearly four times that of white women for more than 30 years."
Despite this tragic (and rather racist) reality, the silence over black abortion is deafening. The BLM movement is silent, and the mainstream media is silent. But researchers note: "The evidence is clear that for many decades black children in the United States have not had, and do not have today, an equal opportunity to survive until birth."
Mr. Netser and Ms. Lucassie are merely pointing out the injustice of abortion, especially in regards to minority groups like the black community. They are simply stating what should be obvious to everyone: ALL LIVES MATTER!
What's wrong with that? Don't ALL lives matter? Apparently not!
In response to Mr. Netser's Facebook post, the Premier of Nunavut, Joe Savikataaq, issued a vague condemnation and immediately relieved Mr. Netser of his responsibilities as a Minister of the Crown. He stripped Mr. Netser of his entire ministerial portfolio!
Mr. Netser was formerly Minister of Nunavut Arctic College and Nunavut Housing Corporation. Now he is a Minister "without portfolio" – all because of 31 pro-life words on Facebook!
The Premier has even threatened Mr. Netser with further reprisals when the Legislature reconvenes on October 21st. In addition, the mainstream media (especially the CBC) has been running him through the mud, falsely claiming he "criticized black women for having abortions."
It seems that it is now verboten to challenge the status quo on abortion or to criticize the pro-abort, Marxist BLM organization. Free speech is dying in Canada!
We need to speak out against this outrage and call on the Premier of Nunavut to apologize.
As for Mr. Netser's daughter, Ms. Lucassie has faced the wrath of woke politicians on Iqaluit City Council. Council met on October 13th and voted to demand Ms. Lucassie's immediate resignation. Councillors called her heartfelt comments "extremely damaging" and suggested they promote racism and gender violence.
How ridiculous! An indigenous woman is accused of being anti-woman and racist! I didn't think that was possible!
Unfortunately, in response to the intense political pressure over the last few days, Ms. Lucassie has decided to give up her seat on Council.
This whole situation is not only deeply disturbing, it's outrageous. I didn't think I lived in that kind of country – where good people are trashed and lose their jobs because of their Christian, pro-life values.
We need to speak out against this abuse of power. We must not remain silent while left-wing bullies in high office push around whomever they like. Christian, pro-life politicians should not be forced out because of their faith! We need more people in government like Mr. Netser and Ms. Lucassie, not less!
That is why CLC has put together a petition to the Premier of Nunavut, Joe Savikataaq, calling on him to reinstate Mr. Netser and issue a public apology for bullying him. We are also calling on the Nunavut Legislature to affirm Mr. Netser's freedom of speech and freedom of religion.
It is ironic that, when Premier Savikataaq pronounced his judgement on Mr. Netser, he claimed to act in the name of "diversity". The Premier wrote: "The Government of Nunavut values diversity, equality and fairness for all. We will not stop listening or acting to make this a reality for all Nunavummiut. There can be no tolerance for disrespectful, hurtful remarks or actions, and we must uphold our government's principles and values. We stand united in this work, together."
How, exactly, does it value "diversity" to silence a diverse perspective on the unborn? How is it being "fair" to push people out of their jobs because of their religion? It's Premier Savikataaq, not Mr. Netser, who is being truly disrespectful, hurtful, and divisive in this situation.
In response to the Premier's statement, Mr. Netser asked, "Where's my equality? Is it not being fair to my convictions and beliefs on what I stand for? We Inuit have always valued life even before the gospel came to Nunavut, to my people."
We need to tell Premier Savikataaq that what he did to Mr. Netser is just not right. It's not fair; and it's not democratic. The Nunavut government needs to be held accountable.
Please take a moment to sign our petition to the Premier and Legislature right now. And once you sign, please share it on Facebook, Twitter, or by email.
Mr. Netser has said, "I'm willing to take the judgement on what they give me, but I stand by my convictions and I refuse to compromise my values."
Help us to defend Patiq Netser's courageous stand for his Christian, pro-life principles. And let's not forget to pray for both him and his daughter, that God would bless, encourage, and vindicate them swiftly.
Yours for Life,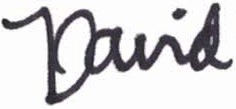 David Cooke
National Campaigns Manager
Campaign Life Coalition
P.S. You may wish to write a personal note to the Premier of Nunavut asking him to reinstate Mr. Netser. If so, his email is available here: https://www.campaignlifecoalition.com/hot-news/id/541