ANALYSIS: O'Toole wins... but Lewis & Sloan have powerhouse performance
August 24, 2020
The Conservative Party concluded its vote counting in the wee hours of Monday August 24th. The winner on the third ballot was pro-abortion Erin O'Toole, while our pro-life candidates had stunning performances, representing a combined 35% of the total vote on the first ballot.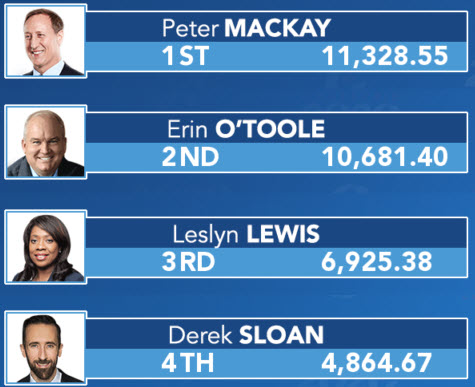 Above: screenshot of 1st ballot results
Although Lewis and Sloan did not win as we hoped, they nonetheless catapulted the pro-life, pro-family and free speech movement forward, both within the Conservative Party, and across the nation. Derek Sloan blew past all pundit predictions, getting an impressive 14.4% of the available points on the first ballot and 16% of the popular vote.
Meanwhile, Leslyn Lewis rocked the media and the party establishment, winning almost 21% of available points on the first ballot. The publicly pro-life, pro-family candidate also won the most points in the province of Saskatchewan, beating out both O'Toole and MacKay. She came second place in several provinces.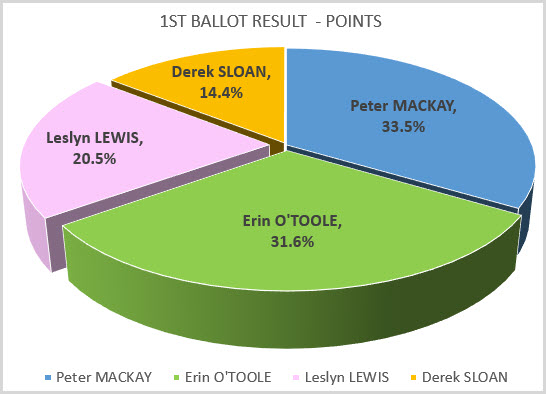 Above: screenshot of 1st ballot results
On the 2nd round, after Sloan was eliminated, two-thirds of Sloan's points got re-allocated to Lewis, making her position much stronger.
Sloan's supporters, social conservatives who viewed Leslyn as their next best choice, placed her within striking distance of first place, almost neck-in-neck with MacKay and O'Toole. She sat at 30%, MacKay at 34.8% and O'Toole at the top with 35.2% of the points.

Above: screenshot of 2nd ballot results with respects to points earned
Furthermore, Lewis actually won the popular vote in the second ballot, winning 35% of all votes compared to 32% for MacKay and 33% for O'Toole. Of course, it is the points that matters, but everyone has to acknowledge this popular vote is a strong indicator of the pro-life Lewis' strength. She actually won more votes overall than O'Toole and MacKay on that second ballot!

Above: screenshot of 2nd ballot results with respects to Votes
At this point however, "close" was not good enough, and as third place finisher, she dropped off the ballot. The majority of her votes rolled up to Erin O'Toole, thus handing him the victory.
Erin O'Toole owes his leadership win to the fact that far more of Lewis and Sloan's points got reallocated to him than to MacKay once the two pro-life candidates dropped off the ballot.
It is fair to say that social conservatives gave MacKay a "spanking" for having describing social conservatives as "a stinking albatross" around Andrew Scheer's neck in the last election.
Due to the powerhouse performances of Lewis and Sloan, virtually all of the media pundits covering the leadership race on the major networks, repeatedly acknowledged that social conservatives are a vital part of the CPC's base, which the party cannot ignore.
We will have more to say about the election results and the performance of our pro-life, pro-family candidates, but for now, here is a link to the press release we issued right after the results were announced: https://www.campaignlifecoalition.com/press-room/id/224
The text of our press release is also pasted below.
*** Social conservatives make their presence felt with 35% of the vote backing pro-life candidates Lewis & Sloan****
Toronto, August 24, 2020 – Campaign Life Coalition is encouraged by the strong support that candidates Leslyn Lewis and Derek Sloan have received in the CPC leadership race. Even though Erin O'Toole won, the results show that social conservatives continue to be a major and irreplaceable part of the CPC base. In fact, with 35% of the vote on first ballot compared with 16% in 2017 for Brad Trost and Pierre Lemieux, socon influence has grown significantly since the last leadership race.
"Contrary to the red Tory and media narrative that dismisses socially conservative candidates, these results prove that pro-life and pro-family candidates like Lewis and Sloan, who are unafraid to champion life and family issues, can draw strong support and be contenders," said Jeff Gunnarson, national president of Campaign Life Coalition. "We expect that Erin O'Toole will ensure that social conservatives are respected and their values represented within the party going forward. If he disrespects the tens of thousands of grassroots members who voted for Lewis and Sloan, he will definitely lose the next general election. Everybody knows you can't win a general election without your base."
Gunnarson continued: "Although a pro-life candidate did not win, by having pro-life standard bearers in the race, including Richard Decarie and Jim Karahalios, who were nixed earlier, it forced the other candidates to make some concessions to social conservatives, such as a pledge to protect conscience rights for healthcare workers, to eliminate Justin Trudeau's values test for Summer Jobs applicants, and in MacKay's platform, to defend religious liberty at home and abroad. We will hold the new Leader to account on his promises."
"Campaign Life Coalition recruited over 26,000 memberships in support of Lewis and Sloan, more than twice as many as in the 2017 leadership race," said Jack Fonseca, spokesperson for Campaign Life Coalition. "Social Conservatives will build on this momentum as CLC continues to mobilize the grassroots and work towards electing pro-life and pro-family candidates in the next federal election and eventually, to pass a bill restoring legal protection to children in the womb."
Fonseca stressed that O'Toole received an unfair advantage from the red Tory establishment without which he would not likely have won: "By disqualifying Decarie and Karahalios, the party establishment rigged the ballot itself, which would have featured four socon choices to just two red Tories, almost certainly guaranteeing a victory for one of the four, owing to the ranked ballot system".
Campaign Life Coalition thanks Lewis, Sloan, Karahalios and Decarie for advancing pro-life and pro-family values in this CPC leadership race, keeping these issues front and centre, and the movement growing.
Media Contacts
Jeff Gunnarson, President, Campaign Life Coalition
Jack Fonseca, Political Operations Director, Campaign Life Coalition
-30-
*******
For a web version of CLC's press release which you can share on social media, click here.
If you get a chance, please thank Leslyn Lewis and Derek Sloan for advancing our values throughout this race, and encourage them to continue doing so!
God bless.
The Campaign Life Coalition Team
www.campaignlifecoalition.com