Barrie: The Memoirs of Dr. L.L. deVeber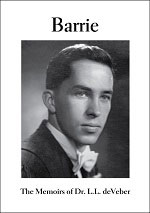 Dr L.L. (Barrie) deVeber, founding President of the Euthanasia Prevention Coalition (EPC)
The newly published book - Barrie: The Memoirs of Dr. L.L. deVeber, is the story of the life of a man who was a pediatric oncologist, a hematologist, a researcher, an innovator, a leader, and a founder of many organizations.

Dr deVeber is historically known for his work in the development of the serum for treating Rh factor in pregnancies. Countless children survived thanks to this research by Dr. deVeber.

Dr deVeber developed the first pediatric palliative care guidelines, that were developed while he was treating children who were dying from cancer in London Ontario.

The book is dedicated to Iola his wife of 61 years who passed away on June 19, 2015.
---